Birth Injury During Pregnancy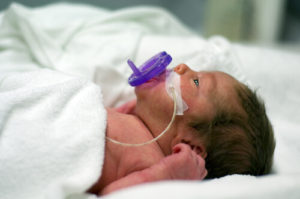 When a woman first learns she is pregnant, it's a usually a time of incredible joy, excitement and anticipation. An expectant mother has every reason to believe her baby is going to be healthy, happy, and start his or her life off with unlimited potential. As a soon-to-be-parent, the mother is ready to do everything possible to ensure her child's future is limitless.
However, there are circumstances when something goes terribly wrong during a woman's pregnancy, and the baby, who is already much-loved, is ultimately harmed. This is a time when the baby should have been developing safe and sound within the protective environment of a mother's womb. Yet a medical provider's negligence cost this innocent child a bright future and replaced it with one of pain and struggle. When this occurs – and it happens more than you might believe – parents are entitled to answers.
If your child suffered birth injury due to negligence during pregnancy, please call Stern Law, PLLC at (800) 462-5772 for answers to your questions.
Do I Have a Birth Injury Case?
Doctors and medical practitioners owe you and your child the duty of care. This includes doulas, midwives, nurses, physicians, obstetric specialists and hospital staffs. When that duty is breached during pregnancy, the consequences can be devastating.
Brain injuries that occur prior to a child's birth can include instances when treatment was not proper or prompt:
Failure to diagnose conditions that put a pregnant mother at risk;
Inadequate monitoring during pregnancy;
Inadequate care in high-risk pregnancies;
Failure to diagnose or treat infections;
Negligent response to emergent situations.
Negligent or careless treatment during the prenatal period before birth can support a medical malpractice claim if this error led to a child's birth injury. There are many things physicians must be aware of, and to which he or she must react appropriately and efficiently in order to ensure that your baby is born healthy. A Medical Legal Review of the specifics of your case may reveal whether and if so, how your doctor deviated from the accepted standard of care.
If a doctor or other medical professional failed to provide you with the care necessary to prevent the complications associated and either you or your child is injured as a result, you should consider your legal options. Additionally, you deserve to know whether your child is entitled to Lifetime Benefits, and whether he or she is entitled to participate in other programs that help obtain the most productive therapies and treatments, adaptive and assistive technologies, educational accommodations, and home or vehicle modifications.
At Stern Law, PLLC, we are not your typical medical malpractice law firm. Our goal is not simply to win cases but also empower parents so they can fight for the rights and future of their special child. For a free review of your case, please call us at (800) 462-5772 today.