Antidepressant Medications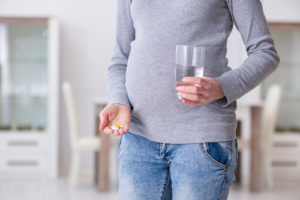 Going back to 2005, the federal government, regulatory agencies, and the medical community have taken a hard look at birth defects and antidepressant usage. Numerous studies have found that mothers who have taken antidepressants and selective serotonin reuptake inhibitors (SSRIs) are at risk of delivering babies with a number of severe and life-altering birth defects.
There are strong indications that the use of antidepressants during pregnancy can increase the risk of birth defects – a grave concern for women who have taken them. After all, antidepressants and SSRIs are commonly prescribed every day. If you believe your child suffered a birth defect due to SSRI exposure, please call Stern Law, PLLC at (800) 462-5772 for a free consultation.
SSRIs: An overview
Selective serotonin reuptake inhibitors (SSRIs) are antidepressant drugs prescribed to treat depression, as well as anxiety and certain personality disorders. Some SSRIs are used to treat fibromyalgia, diabetic nerve pain, and other ailments.
The function of SSRIs is to block re-absorption of serotonin (a neurotransmitter) in the brain. Deemed "selective" because the drugs affect serotonin above all other neurotransmitters, SSRIs can change the balance of serotonin in the system, elevating or altering mood as brain cells send and receive chemical messages.
The anti-depressant SSRIs known to or suspected of causing birth defects include the following:
Paxil® (paroxetine) – GlaxoSmithKline
Zoloft® (sertraline) – Pfizer
Wellbutrin® (bupropion) – GlaxoSmithKline
Celexa® (citalopram) – Forest Laboratories
Cipralex®(escitalopram) – Lundbeck
Luvox® (fluvoxamine) – Solvay
Remeron® (mirtazapine) – Organon
Effexor® (venlafaxine) – Wyeth Laboratories
Prozac® (fluoxetine) – Lilly
Additional prescription medications in the SSRI class are:
Citalopram
Cipramil
Cipram
Dalsan
Recital
Emocal
Sepram
Seropram
Citox
Cital
Dapoxetine
Priligy
Escitalopram
Lexapro
Seroplex
Esertia
Fluoxetine
Fontex
Seromex
Seronil
Sarafem
Symbyax
Ladose
Motivest
Fluctin (EUR)
Fluox (NZ)
Depress (UZB)
Lovan (AUS)
Fluvoxamine
Fevarin
Faverin
Dumyrox
Favoxil
Movox
Indalpine
Upstene (discontinued)
Paroxetine
Seroxat
Sereupin
Aropax
Deroxat
Divarius
Rexetin
Xetanor
Loxamine
Sertraline
Lustral
Serlain
Asentra
Zimelidine
Zelmid
Normudal (discontinued)
Serotonin–norepinephrine reuptake inhibitors
Serotonin–norepinephrine reuptake inhibitors (SNRIs) such as Cymbalta® are in some ways similar to SSRIs. For instance, both classes of drugs elevate levels of serotonin in the brain, but SNRIs also affect levels of norepinephrine.
SSRIs have been available as prescriptions for a lengthy period of time and, therefore, have been studied extensively. SNRIs are newer to the market and have been researched less frequently, although suspicions are surfacing that both classes of antidepressants may have similar side effects and may cause similar birth defects. Until further testing occurs with extensive studies, no one can be certain of the impact that SNRIs have on mothers and their unborn children.
Are you and your baby at risk?
If SSRIs were taken during pregnancy and your child has been diagnosed with or exhibited symptoms of the birth defect(s) listed below, Stern Law, PLLC can provide you with necessary information and assist you as you fight for the rights of your child, seeking compensation and justice for the wrong that was done.
The impact off SSRIs may include developmental disorders, withdrawal symptoms, and malformations, as well as other debilitating birth defects, which may include one or more of the following:
Persistent Pulmonary Hypertension of the Newborn (PPHN)
Persistent Pulmonary Hypertension (PPH)
Atrial Septal Defect (ASD)
Ventricular Septal Defect (VSD)
Congenital heart disease
Hole in heart
Coarctation of the aorta
Elevated heart rate
Lung defects
Heart and/or kidney failure
Hypoplastic Left Heart (HLHS)
Pulmonary Valve Stenosis
Pulmonary Atresia
Organ damage
Brain hemorrhage
Anencephaly
Spina Bifida
Neural tube defects of the brain
Neural tube defects of the spinal cord
Gastrointestinal problems
Omphalocele (intestines and/or abdominal organs exposed at the belly button)
Craniosynostosis (skull defect)
Anal atresia (closure of the anus)
Tetralogy of Fallot (TOF)
Ebstein's Anomaly
Transportation of the Great Arteries Transposition
(TGA)/Transposition of the Great Vessels
Genital defects
Shock
Seizures
Tremors
Hearing loss
Rapid or labored breathing
Akathisia (restless leg syndrome)
Long term respiratory difficulties
Sleep disturbances
Cleft lip
Cleft palate
Club foot
Cyanosis (blue skin discoloration)
The threat of SSRIs to pregnant women and unborn babies has become so acute that regulatory agencies are issuing warnings: "Healthcare professionals are advised to carefully weigh the potential risks and benefits of using paroxetine therapy in women during pregnancy and to discuss these findings as well as treatment alternatives with their patients," warns the Food and Drug Administration (FDA). If your child suffered a birth defect due to SSRI exposure, please call (800) 462-5772 to discuss the details of your case for free with Stern Law, PLLC.