Medical Malpractice Litigation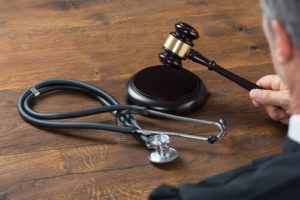 Expectant parents rely heavily on the healthcare practitioners to guide them through the pregnancy and delivery process. It's a time of great joy, but pregnancy and delivery can be a vulnerable time for mothers and their unborn fetus or newborn. Medical malpractice occurs when a child or person is injured either on purpose, or by negligence, at the hands of a healthcare practitioner or healthcare entity that deviates from the medical standard of care in a manner that causes harm.
The root cause of birth injuries – the event or circumstance that occurs during pregnancy, labor or delivery that causes harm – can be difficult to determine, much less proven in a court of law. That's where Stern Law, PLLC's competent and experienced medical malpractice team can flourish.
Once a parent steps forward seeking compensation for a child's injury, obtaining therapies, treatments and other services becomes much easier. From that perspective, investigating the circumstances surrounding pregnancy, labor and delivery is the first step in ascertaining whether you or your child qualifies for compensation.
Administrative and System Errors
Procedures are in place for a reason: To protect people seeking medical assistance from purposeful, or inadvertent, errors. When medical professionals fail to comply with established administrative procedures – whether procedural, administrative, safety, security or sanitary in nature – it could cause irreparable harm to mothers or their children, up to and including serious injury or death.
Learn More About Administrative and System Errors »
Delivery Room Errors
The delivery room is a place where one of life's most cherished events takes place, but sometimes, the birth process doesn't go according to plan. When delivery room errors lead directly to extreme problems like birth asphyxia, delayed or prolonged labor, improper fetal monitoring, inattention or neglect, a child could require a lifetime of medical care.
Better Understand Delivery Room Errors »
Diagnosis Errors
Diagnosing a medical condition is a complex process that takes time and effort; it's the quandary physicians must solve before they can take measures to successfully treat a patient. Diagnostic errors, however, circumvent effective medical treatment that can harm. Whether the diagnosis is missed, delayed, not properly documented or wrong it could be legally actionable.
How Can Diagnosis Errors Impact Your Child's Health? Find Out Now! »
Disclosure Breach
The doctor-patient relationship is one that requires a great deal of discretion and trust; medical practitioners are required by law to keep certain medical information private. If a physician violates the trust of a patient by disclosing confidential information, failing to obtain a patient's informed consent, or neglecting to properly disclose treatment options, risks and alternatives there may be legal recourse.
Know Your Rights After a Disclosure Breach »
Emergency Room Negligence
Emergency rooms are busy, high-pressure environments that must be carefully managed. Even if an ER is busy, medical staff is required to give each patient adequate attention and proper treatment; it's part of the expectation of reasonable care. When an ER team fails to properly assess and treat patients, serious issues can arise resulting in further health issues.
Experience Emergency Room Negligence? »
Equipment Failure
Hospitals are filled with high-tech, sophisticated medical equipment that medical staff rely on to treat patients accurately. These machines administer and measure medication, monitor vital signs, and perform medical procedures essential to preserve life and encourage recovery. Therefore, hospitals must make sure equipment is not damaged or defective, properly maintained, safely used, secure and sanitary. When this process is failed, patients have rights.
You Aren't Responsible for Equipment Failure »
Improper Treatment
Improper medical treatment is best described as an intervention that deviates from accepted medical standard of care that a reasonably competent and skilled healthcare practitioner would have made under similar circumstances. If the medical standard of care was violated by improper, delayed or denied treatment, it could cause undue harm and other medical issues that are legally actionable.
Learn More About Your Rights After Improper Treatment »
Infection Errors
One of the protocols observed by healthcare practitioners is to ensure that treatment is safe and sanitary. However, when protocols are ignored, infections go undiagnosed or are improperly treated, patients are vulnerable to life-threatening situations. Infections, whether bacterial, fungal, parasitic, viral or sexually transmitted, can cause harm to the fetus during pregnancy or delivery if not properly managed.
Did Your Child Experience Infection Errors? »
Medical Errors
Errors in a medical setting are something people generally don't like to think about, yet the possibility that one will take place is always present. The root causes of medical errors, including those that involve medications and medical procedures, can occur when a healthcare practitioner fails to diagnose or properly treat their patient, whether intentionally or by accident. When protocols are breached or standards of care are not complied with, irreparable harm can occur.
Protect Your Child's Rights After Medical Errors »
Medication Errors
Medication errors take place in the hospital, in the doctor's office, at the pharmacy, and at home. Wrong prescriptions, wrong dose, wrong drug, wrong patient, wrong route, wrong-rate, wrong strength, incorrect technique or wrong timing can lead to adverse drug reactions, harm, and even death. Whether the medication error occurs during the prescription, order processing, dispensing, administration or monitoring phase of drug use, if it is due to negligence, it is legally actionable.
Responsible Medical Advice Should Not Lead to Medication Errors »
Standard of Care Breach
The medical standard of care is a legal term that describes the degree of prudence and caution required of healthcare practitioners that have the duty to care for others. Standard of care is in part determined by what other practitioners would reasonably do if placed in a similar circumstance. When the standard is breached, broken, or ignored, medical practitioners or healthcare entities can be sued for damages.
Take Action NOW After a Standard of Care Breach »
Surgical Errors and Complications
Surgery, even in routine procedures, is a serious matter that must be carefully undertaken. "Never events" – events that should never occur during surgery – are prevalent yet preventable. Surgeons and healthcare entities can be held accountable when a foreign object is left behind during surgery, or surgery is performed on the wrong site, wrong patient or using the wrong procedure.
How Surgical Errors and Complications Impact Lives Forever »
Wrongful Birth and Wrongful Life
Wrongful life is when a medical practitioner is sued for failing to properly prevent a child from being born, for instance, as a result of an invitro fertilization procedure, pregnancy termination or sterilization procedure gone wrong. Wrongful birth occurs when a medical practitioner neglects to properly treat or inform the parents of their future child's genetic predisposition or impending birth defect in a timely fashion, while the parents still have the opportunity to choose not to conceive, or to choose to terminate pregnancy.
Better Understand Wrongful Birth and Wrongful Life »
Wrongful Death
Wrongful death occurs when a negligent act occurs that results in the death of another person. Although wrongful death statutes generally do not apply to an unborn fetus, if an infant is born alive but later dies as a result of an injury, a suit may be brought for wrongful death. When this unfortunate set of events takes place, a wrongful death action seeking compensation can be filed by the family. An action can be considered intentional or unintentional, but still actionable under the law in many states.
Learn More About Wrongful Death »
[videosingle id="29061″ width="95%" height="400″ /]
What Is Medical Malpractice? from The CP Lawyer | Stern Law, PLLC on Vimeo.
Looking for a comprehensive list of topics related to Medical Malpractice and birth injuries? Click here!
The parent of a child with a birth injury caused by medical malpractice faces a very challenging time. The quest for answers may at times seem overwhelming. Unfortunately, doctors and other medical practitioners may sometimes attempt to deflect responsibility by blaming others and even you, the patient, to distract you from uncovering the truth. Does this sound familiar?
If so, you and your child deserve more and can find comfort in knowing that answers can actually be provided during a Medical Legal Review. After your child received less care than required during labor and delivery, he or she must not receive less a second time. What sets Stern Law, PLLC apart from many other attorneys is that we work tirelessly with our clients to skillfully pursue their lawsuits for the compensation they deserve. We also, however, provide them with planning, strategy and information about government and insurance benefits and cutting edge medical treatments and therapies, in addition to valuable information about enforcing a child's special education rights. Our mission is not simply to prevail in a lawsuit; it is about helping to provide your child with a secured quality future which enables him or her to achieve the fullest potential in all aspects of their life.
Parents who wish to learn more about their legal options can call Stern Law, PLLC today at 800-462-5772, or complete an online contact form for assistance. Our legal team in available to answer all questions and provide help and support. There is never any charge for an initial consultation.