Surgical Errors and Complications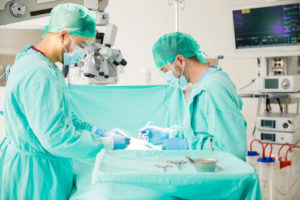 Surgery, even when the procedure is considered routine, is a serious matter that must be carefully undertaken. "Never events" – events that should never occur during surgery – are prevalent yet preventable. However, if the surgeon breached his duty of care and acted negligently or incompetently, then he needs to be held fully accountable.
Surgical errors and other complications may have resulted in severe harm to your baby. Stern Law, PLLC has over 30 years of experience building medical malpractice claims on behalf of injured children and their families. Please call (800) 462-5772 for a free consultation.
The neonatal period
The first twenty-eight days of your baby's life are known as the neonatal period. Surgical and other medical procedures required during this time can be extremely difficult to perform because of the small size and delicate health of your baby.
Mistakes made during these procedures may mean other catastrophic results for your child, leading to specialized medical needs, possible further surgeries, individualized treatment, therapy, and education programs, and adaptive and assistive technologies.
What are the most common types of surgical errors?
Surgical errors may include the following:
Failure to disclose – Oftentimes, surgery on a newborn is necessary to save the life of the child or prevent serious long-term injury. However, there are times when alternatives that are not presented would have led to a different decision and different outcome. A doctor is obligated to present all reasonable options, even if those alternatives are not procedures that the particular doctor performs. A failure to disclose these alternatives when the surgery leads to harm may be medical malpractice.
Surgical injury to surrounding anatomical structures – Surgery on a pregnant woman or newborn infant is incredibly difficult. Although there are some injuries that would have resulted despite the skill that was exercised, there are other circumstances where the harm resulted from negligence, incompetence, or a lack of reasonable care. There can be harm done during a cesarean section (c-section) leading to injury to the baby. Avoidable harm is especially possible during intricate neonatal surgery.
Surgeon fails to diagnose the problem – Surgeons are fallible. They do make mistakes. Unfortunately, the mistakes of surgeons often have tragic consequences. In reviewing medical records and discussing symptoms with a patient, the surgeon may fail to diagnose a condition that could have been treated or corrected if diagnosed sooner. This failure to diagnose may include failing to order a cesarean section in a timely manner when there is fetal distress or maternal complications.
Surgeon fails to properly treat – Pre-surgical and post-surgical treatment is critical to the welfare of you and your child. Failure to treat a mother after surgery while pregnant may lead to infection that harms the infant. Failure to treat the infant who underwent neonatal surgery may lead to serious developmental abnormalities and impairments.
Surgical instrument left in body – Although one may think of this as something that only happens to advance the plot in TV movies, this unfortunately occurs more often than you might think in reality. Surgeries involve many people acting in different capacities and using different tools, such as retractors, sponges, surgical towels, clamps, needles, and other objects. These items of various sizes may be left behind after the surgery is completed, leading to infection, growth abnormalities, and other complications.
Wrong patient surgery – Surgeries involve many different elements, and performing surgery on one patient when it was intended for another can have devastating consequences, even if the mistake is caught relatively quickly into the procedure.
Wrong-site surgery – People may smile at the notion of a patient taking a permanent marker and making a notation on the correct leg or placing an arrow pointing to the correct organ before surgery, but misreading a chart, or simply not paying attention during the surgery can cause a person to spend the remainder of his life dealing with the consequences of an avoidable injury.
Wrong surgical procedure -Any procedure performed on a delicate newborn is dangerous. Subjecting an infant to the wrong surgery while leaving the actual condition unaddressed can have catastrophic impact of the life of that child.
It is accepted that most people generally trust their surgeons completely. However, when surgeons make mistakes, they can be devastating. We can review your medical malpractice claim for free and answer your questions: Please call Stern Law, PLLC at (800) 462-5772 today.