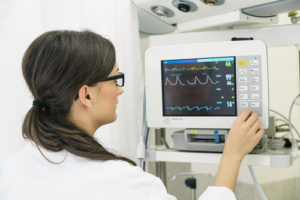 You may be faced with a situation where your beautiful baby, whose birth you anticipated with such joy, now has a birth injury and you do not know why. As you search for answers about what happened to your child, it is tough to contemplate that something as simple as equipment malfunction or failure may be the underlying cause of his or her birth injuries.
If your child sustained serious or even life-threatening injuries at birth because medical professionals failed to use equipment safely and properly, please call Stern Law, PLLC to discuss the details of your case: (800) 462-5772. We are available 24 hours a day, seven days a week to speak to you for free.
Types of equipment failure and misuse
There are different categories of equipment failure and misuse that may have caused your baby's birth injuries:
Accident;
Equipment maintenance;
Equipment safety;
Equipment use;
Sanitary equipment;
Secure equipment.
Medical professionals use specialized equipment to measure biological data, diagnose, treat, monitor, and even sustain life. The more difficult the procedure or treatment, the more critical it is to have medical equipment that is functioning properly and used in the correct manner. It also is imperative to have staff that is trained properly in the use of the equipment. As medical science advances, the technology becomes more and more complex. It is critical to have strict training protocols to ensure the highest level of skill in operating the equipment.
Types of medical equipment failure that may lead to birth injuries
Medical equipment failure can range from technical and hardware malfunctions to errors with software coding. Other types of failure can include data loss, monitor glitches, freezing, and shutdowns.
Diagnostic equipment – Many conditions can be effectively treated if diagnosed early. Medical practitioners rely upon advanced diagnostic equipment to identify different conditions that may have an impact on fetal development or the treatment of a newborn. Defective equipment can lead to a missed or improper diagnosis leading to lack of treatment or improper equipment;
Medical monitors – In the current medical environment, medical professionals rely on monitors to relay information on the condition of the mother and child. These monitors are supposed to display early signs of distress so that the doctors and nurses can respond immediately. If these monitors fail or do not function at peak efficiency, a serious condition can be overlooked until it has caused severe, long-term injury, which could have been avoided if the equipment had been functioning properly;
[videosingle id="29108″ width="95%" height="400″ /]
What Is Electronic Fetal Monitoring? from The CP Lawyer | Stern Law, PLLC on Vimeo.
Specialized care equipment – During delivery and immediately thereafter, advanced medical equipment may be critical to maintaining the health of your baby. Infants who spend time in the neonatal intensive care unit (NICU) rely on the specialized equipment there. If there is a malfunction or failure, the life of the baby may be irrevocably altered.
A medical facility must have procedures in place to ensure that these things do not happen. If they fail to create and enforce these protocols, then the facility or responsible medical professional is liable for the injuries to your child caused by these errors.
For a free review of your birth injury case, please call Stern Law, PLLC at (800) 462-5772 today.