Improper Medical Treatment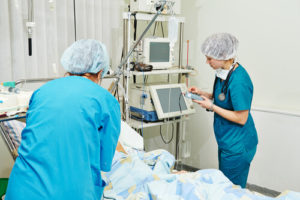 As the mother of a child with birth injuries, you may be struggling to understand how your baby's bright future turned into an uncertain path of now struggles and obstacles. Many times, the harm may be the result of improper treatment. Understanding how this may have caused your child's birth injuries can help lead you to answers and solutions that can provide for a better future for both you and your child.
If you believe improper medical care caused your child's birth injury, please call Stern Law, PLLC for free at (800) 462-5772 to discuss your claim.
What Is Improper Medical Treatment?
Improper medical treatment is best described as an intervention that deviates from accepted medical standard of care that a reasonably competent and skilled healthcare practitioner would have made under similar circumstances. If the medical standard of care was violated by improper, delayed or denied treatment, it could cause undue harm and other medical issues that are legally actionable.
Improper medical treatment can occur before conception, during pregnancy, during birth, or immediately after birth. Mistakes that are made during a medical procedure will often fall into the improper treatment category, especially if the errors occurred during commonly performed procedures.
When errors arising from improper treatment cause birth injuries, it must be shown that the harm was a result of breach of duty and the standard of care in order to recover on a theory of medical practice. Mistakes during very difficult emergency situations may not qualify, as the procedure or risks may be acceptable under certain extenuating circumstances.
Types of Improper Medical Care
Treatment failure may include the following:
Failure to assess or respond to complications or health conditions during pregnancy or the birth process;
Failure to properly perform a procedure (surgery, medical, or treatment);
Failure to notice or respond to the fetal condition or fetal distress;
Failure to perform a timely cesarean section because of fetal distress;
Failure to perform a timely cesarean section because of other conditions, including infection or extended labor;
Failure to properly care for the newborn after birth;
Failure to supply adequate oxygen to an asphyxiated baby at birth;
Failure to monitor oxygen and respiratory treatment following birth;
Failure to properly treat a child suffering trauma during the labor process.
These treatment failures may have led to harm to your baby. A delay in taking essential actions also may lead to serious, long-term harm to your child.
When facing a preventable birth injury caused by improper treatment, families often find themselves inundated with irrelevant information intended to shift blame. Our experienced birth injury law firm has over 30 years of experience defending the rights of families affected by poor medical care. Please call Stern Law, PLLC at (800) 462-5772 today for a complimentary consultation.