Necrotizing Enterocolitis Caused By Baby Formula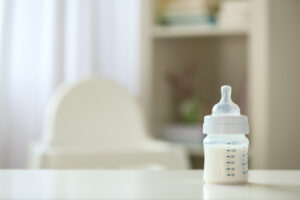 Did your newborn infant develop necrotizing enterocolitis after being fed Enfamil or Similac baby formula? If so, contact our firm, Stern Law, PLLC, today. You might be entitled to compensation through a mass tort lawsuit against the baby formula manufacturer.
Necrotizing enterocolitis (NEC) is a disease that affects the intestine of premature babies. Typically, the disease develops within the first two weeks of a newborn's life. It results from an injury or inflammation of the intestinal tissue. Feeding a preemie bovine-based formula can cause severe damage to the intestines and lead to the death of the intestinal tissue.
Parents around the country filed lawsuits against Mead Johnson Nutrition and Abbott Laboratories, Inc. for supplying baby formula to consumers and doctors without disclosing the risks of NEC. The public was not aware of the dangers associated with the Enfamil and Similac products due to inadequate warning labels. The manufacturers' failure to warn consumers about these risks caused newborns to suffer the adverse effects of a product that should have been safe to consume.
Stern Law, PLLC, is ready to represent you in your case against the manufacturing company. We have more than 30 years of experience fighting for our clients. Our legal team will be your baby's advocate and help you pursue the justice they deserve. Call us at (800) 462-5772 right now to learn more about whether you're eligible for a mass tort case.
What Is Necrotizing Enterocolitis?
Necrotizing enterocolitis commonly occurs in premature babies born before 32 weeks of gestation. However, the condition could affect infants carried to full term. When a baby consumes formula instead of breast milk, they could develop the disease.
Symptoms of necrotizing enterocolitis vary depending on how prematurely the birth occurred and the progression of the disease but could include:
Lethargy
Changes in breathing, heart rate, body temperature, and blood pressure
Yellow or green vomit
Abdominal swelling and pain
Diarrhea with bloody stool
Lack of weight gain and the baby's refusal to eat
If you notice your newborn exhibiting NEC symptoms, you should immediately bring them to the doctor. These symptoms often mimic other gastrointestinal diseases and health conditions. Only a qualified healthcare professional can diagnose NEC properly and recommend the appropriate treatment plan.
Left untreated, multiple complications of necrotizing enterocolitis could arise, such as:
Peritonitis – A fungal or bacterial infection typically leads to peritonitis, which is inflammation of the peritoneum. This occurs in babies with NEC if a perforated intestinal wall allows bacteria to enter the abdominal cavity.
Short bowel syndrome – Tube feedings are necessary if a significant portion of the intestine becomes damaged or destroyed. Without these feedings, the baby won't receive the nutrition they need to grow.
Intestinal stricture – An intestinal stricture is a narrowing of the affected portion of the intestine. This can occur after successful treatment of NEC. Food can't pass through the intestine, as usual, requiring surgery.
Why Baby Formula Causes Necrotizing Enterocolitis
Experts and medical providers aren't entirely positive about how bovine-based baby formula causes NEC. However, it could be due to a premature infant's weak lungs and intestines. They're not strong enough to fight infections, break down food, and move blood and oxygen throughout their bodies.
Necrotizing enterocolitis is common in infants weighing less than 3.25 pounds. However, any baby could develop this disease. Other risk factors of necrotizing enterocolitis include:
Lowered oxygen levels or a difficult delivery
Too many red blood cells
Being a premature or high-risk baby fed formula by tube or mouth
Being seriously ill and/or receiving blood transfusions
Existing infections of the gastrointestinal system
Manufacturers You Could Hold Liable for the Necrotizing Enterocolitis Diagnosis
Mead Johnson Nutrition and Abbott Laboratories, Inc., manufactured baby formula products without warning the public of the risk of NEC. You could pursue a lawsuit against one of these companies if your baby developed NEC after consuming any of the brands below:
Mead Johnson Nutrition
Enfamil Human Milk Fortifier
Enfamil NeoPro EnfaCare Infant Formula
Enfamil 24 Cal Infant Formula
Enfamil Premature Infant Formula 24 Cal with Iron
Enfamil Premature Infant Formula 20 Cal with Iron
Enfamil Premature Infant Formula 30 Cal with Iron
Abbott Laboratories, Inc.
Similac Human Mil Fortifier Hydrolyzed Protein Concentrated Liquid
Similac Special Care 24
Similac Alimentum Expert Care
Similac Special Care 24 High Protein
Similac NeoSure
Similac Special Care 30
Similac Human Milk Fortifier
Similac Special Care 20
Similac Liquid Protein Fortifier
Treatment Options for Necrotizing Enterocolitis
Although necrotizing enterocolitis is a severe disease, prompt and adequate treatment can repair intestinal damage and improve the newborn's outcome. Many babies recover from NEC without suffering significant complications. Others require ongoing medical care to manage symptoms and monitor growth.
The treatment plan your baby's doctor recommends will depend on various factors, including how prematurely you gave birth and the severity of the disease. The most common necrotizing enterocolitis treatments include:
Administering IV antibiotics to treat abdominal infections
Stopping tube and oral feedings
Inserting a tube into the stomach to relieve gas in the bowel and keep the stomach empty
Providing fluids and nutrition intravenously
Monitoring the progression of NEC with blood tests and X-rays
Surgery to remove dead intestinal tissue or repair a hole in the intestine
Perform an ileostomy to remove part of the destroyed small intestine
Compensation Available in a Mass Tort Case
A mass tort lawsuit involves multiple plaintiffs consolidating their cases and pursuing legal action against one defendant. Plaintiffs don't share equal amounts of the financial award from a jury verdict or settlement. The compensation you recover will depend on the factors related to your case.
Your compensation could cover the losses you suffered due to your baby's diagnosis of necrotizing enterocolitis, such as:
Medical bills
Lost wages
Lost earning capacity
Pain and suffering
Loss of quality of life
Out-of-pocket expenses
Emotional distress
Contact Stern Law, PLLC, Today
At Stern Law, PLLC, our legal team has a proven track record of success. We have received a wide range of recognition from prestigious organizations, such as the Million Dollar Advocates Forum, The National Trial Lawyers, and America's Top 100. We are proud of the reputation we have built and the case results we've achieved, but also the difference we have, and can, make for our clients.
When we take a case involving a sick baby, we dedicate our time and attention to every detail. We know that no two cases are alike, and we customize a strategy based on the unique circumstances of each case. Our legal team provides guidance and support to every client who hires us until the end of the legal process.
Call Stern Law, PLLC, at (800) 462-5772 immediately if your baby developed necrotizing enterocolitis from baby formula. We will review your case during a free consultation and determine whether you qualify for a mass tort lawsuit against Mead Johnson or Abbott Laboratories.