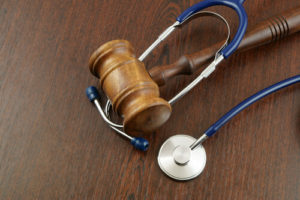 In many cases, birth injuries occur when a child suffers a form of trauma that is sustained during the birthing process. However, injuries that occur when a woman is pregnant, or immediately after birth, are classified as birth injuries, too.
A birth injury in the beginning stages of life can have consequences that can last a lifetime, and for that reason, we rely on physicians to minimize the likelihood that something will go wrong. When something does go wrong, it's not always the result of a medical practitioner's careless actions or negligence, but if it is, the child may be eligible to pursue Lifetime Benefits, including compensation to be used for future care, medical treatments and support.
Birth Injury During Pregnancy
A birth injury during pregnancy is one that takes place after conception, but prior to a child's birth. Brain injuries during this time in a baby's development can include instances when treatment was not proper or prompt. Failure to diagnose conditions that put a pregnant mother at risk, inadequate monitoring during pregnancy, inadequate care in high-risk pregnancies, failure to diagnose or treat infections or negligent response to emergent situations can all lead to harmful birth injuries during pregnancy that could qualify for compensation.
Birth Injury During Labor and Delivery
Medical practitioners generally take great care in following medical standards of care when assisting a mother during labor and delivery. However, there are many circumstances where failing to adhere to these established standards can cause irreparable harm, or death, to a mother or newborn. Oxygen deprivation, improper use of forceps, delayed emergency C-section, prolonged traumatic labor or delivery, improper fetal monitoring, improper labor induction and untreated infections or other health conditions during this stage of pregnancy can all lead to serious injury, suggesting the possibility of malpractice.
Birth Injury After Delivery
Injuries that take place shortly after the child's birth are still considered birth injuries; they are often the result of undiagnosed or improperly treated conditions, including seizures, sepsis, infections, or jaundice. Failure to identify the reasons for abnormal Apgar score, encephalitis, Chorioamnionitis, meningitis, circulatory or digestive conditions can suggest the possibility of malpractice.
How Do You Pursue A Birth Injury Case? from The CP Lawyer | Stern Law, PLLC on Vimeo.
We understand how challenging it can be to cope with the constant uncertainty one experiences in terms of providing the child with the care that he or she desperately needs. After representing thousands of birth injury victims and their families, we know first-hand that properly raising a child who is coping with birth trauma or other birth injuries can be extremely difficult. Children who were deprived of their full potential to live a normal life due to medical errors deserve the best care possible as well as a team of compassionate, yet aggressive, birth injury lawyers to fight for their rights. Stern Law, PLLC is committed to providing parents with answers, hope and the information they need to make informed decisions about their child's future.
When Should A Parent Contact A Cerebral Palsy Attorney? from The CP Lawyer | Stern Law, PLLC on Vimeo.
Parents deserve answers regarding the cause of their the child's injury and who is responsible for its occurrence, so they can explore the legal options that may help to better manage their child's future care and potential. At Stern Law, PLLC, we help parents find those answers. Please call (800) 462-5772 for a free consultation with an attorney who can answer your questions.