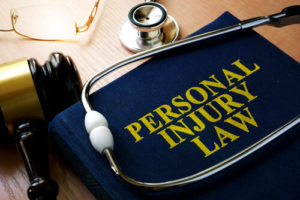 Personal injury law encompasses legal advice and representation for claims of injury, civil wrongs, or negligence against a person, company, government agency, or individual that is alleged to have caused physical or psychological harm to an individual, group, property, reputation, or rights. Personal injury claims usually rely on tort law and seek monetary damages as compensation.
Legally, medical malpractice is considered a form of personal injury law.
About personal injury law
Tort law is the backbone of personal injury claims. Tort law assumes a breach of civil duty to a person has occurred. Tort is a combination of common laws created at the state level through judges and statutory law created by legislatures.
There are three main categories of tort:
Intentional tort – torts where it is reasonable to expect the person causing injury should have known their actions, or inactions, would result in harm. Examples include assault, battery, false imprisonment, and fraud.
Negligent tort – when the person causing harm was unreasonably unsafe. Examples include medical malpractice and workforce accidents.
Strict liability tort – when a particular action causes damage and does not rely on the person's efforts to be careful.An example is product liability and warranty issues.
Tort law assumes an injury has occurred. Injuries can include economic loss, emotional damage, or damage to reputation. The injury may be the result of a violation of a person's privacy, property, personal safety, or constitutional rights. A tort may include assault, battery, emotional distress, false imprisonment, and fraud. In some cases, tort law involves nuisance or defamation of character.
Proving personal injury
In order to win a personal injury claim, you must prove intent, negligence, or strict liability. You must prove that the actions, or inaction, of the defendant caused harm. You must prove the defendant was solely, or in some ways partially responsible. And, you must prove resulting damages occurred which are able to be compensated under the law.
A defendant will try to prove that he was not responsible for the harm. The argument is that he acted responsibly and reasonably under the circumstances and within the scope of his duties. Some other justifications for the actions that allegedly form the basis for the tort are: consent was properly obtained; the plaintiff was partially responsible; or, the harm is not worthy of compensation.
Areas of personal injury law include:
Automobile accidents
Birth defects
Birth injury
Brain damage
Brain injury
Cerebral palsy
Defective products
Dental malpractice
Head and spinal injuries
Lead paint poisoning
Medical mistakes
Medical malpractice
Motorcycle accidents
Nursing home abuse and neglect
Professional malpractice
Sexual abuse
Slip and fall
Toxic chemical exposure
Traumatic brain injury
Wrongful death
Stern Law, PLLC exclusively tries birth injury cases. We are passionate about protecting the rights and welfare of children. In more than 30 years, our firm has assisted thousands of families who suffered irreparable damage due to medical negligence. For a free review of your claim, please call (800) 462-5772 today.