Educational Advocacy: What You Can Do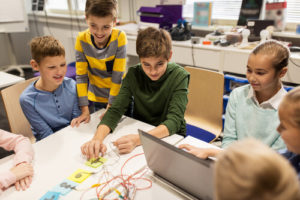 Cartoonist Charles Schulz once said, "[A] good education is the next best thing to a pushy mother." What Schulz recognized, and others may fail to, is that parents are their child's best advocate. No matter what your level of understanding of the educational system, your input into your child's education is of vital importance. You have the knowledge that no one else does. You are your child's expert.
It takes knowledgeable, devoted, and passionate parents to fight for their child's educational success. Sometimes, it also requires engaging the services of an educational advocacy lawyer. It is our hope that in our pages on educational advocacy, parents can find a starting point for becoming their child's advocate. For further assistance, please call Stern Law, PLLC at (800) 462-5772 today.
Tips to becoming an effective advocate
The following is a look at the necessary steps for becoming an effective advocate:
Gather information. Start by gathering as much information as possible concerning your child's disability and his or her educational needs. Organize documents for ease of use later on;
Know the law. Perhaps the most crucial steps toward effective advocacy is understanding the laws concerning education for those with special needs. As a champion for your child's education, you must know what your child is entitled to. The terms "appropriate education" and "least restrictive environment" should be readily understood. Parents must work within the legal framework in existence, and a thorough understanding of it will enable them to intelligently argue on their child's behalf;
Prepare and plan. Advance planning prevents problems later. Advocates do not expect others to inform them of their child's rights and responsibilities; rather, they read special education cases, laws, and regulations. Parent advocates develop an understanding of test scores and by monitoring their child's progress. Special education supporters prepare well in advance of meetings, write objectives, use worksheets, and create agendas. The very start of your educational advocacy journey should involve identifying your son or daughter's "chain of command" at school. Create a chart with the names and contact information of the principal, special education teacher, regular education teacher, the special education director, assistant superintendent, and superintendent;
Develop confidence in your own advocating. Effective advocacy depends upon believing in your own abilities. Accept that with some preparation, research, and advance planning, you will be your child's best advocate. Others will respect you as an advocate when you believe in yourself as such;
Keep written records. Advocates know that if it is not written down, it does not exist. Make all requests in writing and write follow-up letters to meetings and discussions. Organize all written documents and keep everything that may later be relevant;
Ask questions and employ active listening. Do not be afraid to question educators, professionals, and the like. Listen openly to their answers and then continue to ask the questions that arise. It is through asking questions and actively listening that you will gain a better understanding of your child's education and changes that must be made;
Identify problems—in order to fix a problem, you must first identify it. Advocates will define and describe problems from all angles. Effective advocators use their information and knowledge to solve problems;
Propose solutions and be prepared to negotiate. As your child's educational champion, you will learn to negotiate towards a win-win solution;
Network. You are not in this alone, and seeking the support or assistance of others can lead to better advocacy. Connect with fellow parents, professional advocates, and disability association chapters;
Recognize the difference between effective advocacy and mere arguing. The manner in which you approach educators and professionals will greatly impact your success, or lack thereof. Simply arguing based on emotion and frustration will not further your cause. It may aggravate educators and cause unnecessary tension. Advocating with documentation and research by your side will earn you respect and greatly increase your chance of obtaining the outcome you desire
The current educational system often fails to adequately provide services for our challenged children. This is where parents and professional education advocates can step in.
Our law firm focuses on more than just trying birth injury cases. Parents with children who suffer from lifelong difficulties need more than just legal help, which is why our firm is proud to offer a comprehensive array of resources to empower families in all areas of life. If you're unsure how to assist your child with his or her education and other matters, please reach out to Stern Law, PLLC for assistance: (800) 462-5772.