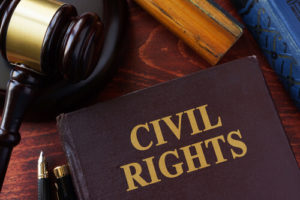 Americans are endowed with a certain set of unalienable human rights and freedoms that protect their ability to participate in society without discrimination. These are called civil rights. Disability rights fall under civil rights law.
When an entity – such as a government, employer, or non-profit group – violates these rights, speaking to an attorney who specializes in civil rights may be beneficial. For more information, please call Stern Law, PLLC at (800) 462-5772 for a free consultation.
About civil rights law
We all have civil rights in this nation. Civil rights are freedoms and privileges granted to citizens by the government through the United States Constitution and within state and federal statutes. Civil rights includes freedom of speech, press, assembly, and religion, and also includes freedom from involuntary enslavement. Rights are also granted, including the right to equality in public places, to vote, to bear arms, to enjoy due process of the law, and to receive equal employment opportunities. Statutes prohibit discrimination on the basis of color, disability, familial status, race, sex and religion.
Of particular interest to those with a birth injury is the disability rights law. Disability rights provide opportunities of equal access in air travel, housing, accessibility, accommodations, education, employment, telecommunications, voting, and other federally funded or conducted programs.
How can a civil rights attorney help me?
The areas of law that a civil rights lawyer may concentrate on are:
Credit rights;
Disability rights;
Education rights;
Federally funded and conducted program rights;
Health care rights;
Housing rights;
Labor rights;
Local, state, and federal government programs;
Public accommodation rights;
Public transportation;
Voting rights.
In 1991, the Americans with Disabilities Act, or ADA, extended civil rights to people with disabilities. Laws that preceded and followed the ADA's passage granted rights in air travel, housing, accommodations, education, employment, telecommunications and voting.
Disability rights include rights granted by the following:
Air Carrier Access Act;
Americans with Disabilities Act of 1990;
Architectural Barriers Act;
Civil Rights of Institutionalized Persons Act Fair Housing Act of 1988;
Individuals with Disabilities Education Act of 1975;
National Voter Registration Act of 1993;
Rehabilitation Act (Section 501, 503, 504 and 508);
Telecommunications Act of 1996;
Voting Accessibility for the Elderly and Handicapped Act of 1984.
If you or your child has a disability and you believe your civil rights have been violated, speak to an attorney to review your legal options. Call (800) 462-5772 to speak with Stern Law, PLLC for free.