Medical Negligence and Wrongful Death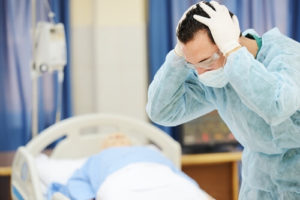 A wrongful death stemming from birth injuries can be caused by a multitude of different factors. However, many of these factors involve medical negligence (whether caused by a doctor, hospital or medical staff).
If you suspect that your spouse or child unnecessarily died at the hands of negligent medical professionals, as a survivor, it is highly recommended that you consider your legal options. For a free consultation, please call (800) 462-5772 to speak with an experienced attorney at Stern Law, PLLC today.
Common Causes of Death Due to Medical Negligence
According to nationwide statistics, there are approximately 15 maternal deaths per 100,000 births, placing the United States near the bottom of the list for all developed nations. As for children, approximately 11,300 children die in the U.S. on their first day of birth, representing the highest number of first-day deaths than in any other industrialized nation across the world.
Researchers believe that medical malpractice may be responsible for these staggering amounts of fatalities, and may stem from:
The use of excessive force during delivery, including twisting and pulling
Delayed decision to perform a cesarean section
Failure to monitor for and/or detect fetal distress
Improper usage of a vacuum extractor or forceps
Failure to administer oxygen to a newborn in distress
Failure to diagnose a pregnancy related medical condition
Failure to recognize and immediately address placental abnormalities, including placental abruption
Faulty or improperly used fetal monitoring equipment
Dropping a newborn after birth
Failure to diagnose and treat pregnancy, labor and delivery complications that can lead to traumatic birth injuries
Failure to detect and address a compressed umbilical cord
Miscalculation of a baby's size, leading to delivery complications
Use of excessive force (i.e. pulling, tugging and twisting delivery)
Failure to address maternal conditions, leading to death
Failure to diagnosis and respond to a baby's obstructed airway due to meconium aspiration or other serious causes
Mismanagement of maternal bleeding during pregnancy, labor or delivery
Administering too much Pitocin or Cytotec, which are medications used to induce labor
Failure to respond to the signs and symptoms of fetal distress and maternal conditions that may increase the likelihood of fatal birth injuries
Failure to respond to abnormal behavior in a newborn child (for instance, if a child is not eating, drinking or passing stool/urinating, there could be a potential problem)
Failure to perform a timely vaginal delivery
Failure to enlist the assistance of specialists to assist a woman with a high risk pregnancy or other conditions that put her child at a greater risk for fatal birth injuries
Do I Have a Wrongful Death Case?
Many people unknowingly forgo opportunities to fight for the compensation they deserve simply because they did not have the information necessary to help them make this very important and often life changing decision. While no amount of money can compensate you for the death of your loved one, it can at least provide you with the peace of mind to know that your monetary losses and other non-economic damages will be covered.
Whatever the situation may be, it is important to realize that you are not alone. Stern Law, PLLC has more than three decades of experience in birth injury litigation, and we are here to help. Please call (800) 462-5772 today for a free consultation.