Seizures and Untreated Seizures Disorders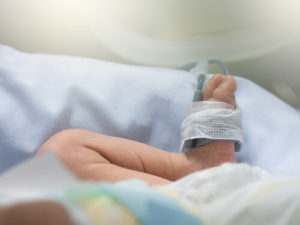 Seizures are disturbances in the brain's impulses that need immediate and often long-term medical treatment. If an infant suffers from seizures due to medical error – undiagnosed, untreated or uncontrolled seizures – the infant is at risk for permanent nerve cell injury or damaged cognitive function.
If your child suffers from a seizure disorder that may be the result of medical malpractice, Stern Law, PLLC can provide guidance and support. Please call (800) 462-5772 for a free consultation.
About treated and untreated maternal seizures disorders – What you need to know
A seizure is an unusual electrical disruption in the brain that causes interference in sensory perception and awareness, involuntary movements, or convulsions. Many seizures in women who are pregnant are caused by epilepsy; however, there are other health conditions that lead to seizures. Although many women with epilepsy may have a normal pregnancy, there are those who take anti-epileptic drugs who may face the tragedy of a child with a severe birth injury.
Women with seizure disorders do have a greater chance of delivering a pre-term child, delivering a baby with low birth weight, or having a child who was too small for his or her gestational age. This can happen even with the most diligent doctors and the optimal medical care. However, there are many instances where the actions of the doctor or other medical professionals contribute to the birth injury of the baby.
Anti-seizure medication risks
A woman with epilepsy should work with a doctor before conception and throughout the course of the pregnancy. There can be terrible circumstances where a woman has done everything right and her baby still suffers a birth injury. This is where a review of the medical treatment provided is crucial.
During pregnancy, there should be careful management of the progression of the development of the fetus and the delivery. A doctor should monitor the maternal health condition and modify the treatment of the epilepsy or other seizure disorder as needed. There are certain instances where a doctor will advise to continue to take anti-epilepsy drugs, but this must be done through a careful balancing of all the factors. Specifically, there are drugs that are associated with teratogenic changes in your baby and the potential impact on the baby must be weighed against the consequences of you stopping the use of these medications.
The anti-epilepsy drugs with the potential for harm include:
Valproate – Associated with congenital malformations. This drug should only be prescribed if there are no other safe alternatives
Topiramate – May cause cleft palate in children when administered during the first trimester of pregnancy
Carbamazepine
Lamotrigine
Phenobarbital
Phenytoin
Primidone
Although other anti-epilepsy drugs may have teratogenic properties, there have not been enough studies to be able to list them conclusively. Doctors are responsible for understanding all of the potential consequences of each drug choice and informing the mother of any possible side-effects. Through an open conversation, they can arrive at the right course of action. If a mother is not made aware of the potential harm to her child, then the doctor may have breached his duty to both the mother and child.
Can a mother stop taking seizure medication during pregnancy?
It is not as simple as deciding to stop taking all anti-seizure medication. There are risks to the mother and baby that exist if the seizures are not treated properly. Some possible negative consequences of seizures in pregnant women include:
Miscarriage
Fall-induced trauma
Gestational hypertension
Hyperemesis gravidarum (excessive nausea, vomiting, and dehydration that can lead to fluid or electrolyte imbalances)
There also are negative consequences for your baby if the seizures are not treated properly, which include:
Low birth weight
Increased risk of infection
Orofacial clefts
Cardiac abnormalities
Neural tube defects
Fetal hypoxia
Fetal bradycardia caused by maternal seizure during labor
Improper medical treatment may cause or exacerbate birth injuries
If a doctor or medical professional did not diagnose or treat your seizure disorder properly, and this caused harm to your baby, then the doctor may be responsible for the resulting birth injury. It is important to consider:
Whether your doctor properly diagnosed the seizure disorder
Whether your doctor communicated the risks and benefits of not treating the seizure disorder
Whether your doctor understood and communicated the potential negative effects of specific anti-seizure or anti-epilepsy drugs
Whether any delay in diagnosing the seizure disorder, treating the disorder, or modifying medication resulted in harm to your child
If you have a seizure disorder, such as epilepsy, you may blame yourself for the harm that was done to your child. However, simply because you have a seizure disorder does not mean that you are responsible for the injury.
A doctor's role is to evaluate your medical condition and come up with the best possible course of treatment during pregnancy. If a doctor mismanages a seizure disorder through improper treatment or deciding not to treat the seizures during the pregnancy, the child's family might be eligible to recover damages to help offset the long-term difficulties the child might face. Please call Stern Law, PLLC (800) 462-5772 for a free review of your case.