Erb's Palsy Symptoms and Treatment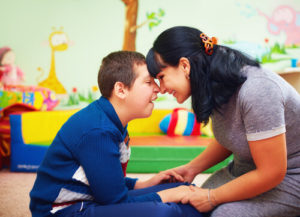 If a pediatrician suspects that your child has Erb's palsy, he or she will first conduct a physical exam and may then order an MRI or X-ray of the neck and shoulder to determine the nature and extent of nerve, muscle and tendon damage. Your doctor may also perform a nerve conduction test to see whether there are any existing nerve signals present in the muscles of the upper arm. These tests may include a nerve conduction study or electromyogram.
An Erb's palsy diagnosis can significantly alter your child's future. If medical negligence is responsible for the disability, your family has rights. Please call (800) 462-5772 for free to discuss the details of your case with Stern Law, PLLC.
What are the symptoms of Erb's palsy?
There are a number of signs and symptoms associated with Erb's palsy. These include:
Weakness in one arm;
Loss of sensation in the arm;
Partial or total paralysis of the arm;
Muscle weakness;
Inability to raise one's arm or difficulty in doing so;
Arm flexed at the elbow and held firmly against the body;
Lack of movement in the upper or lower arm;
Lack of movement in the hand;
Decreased ability to grip.
Non-surgical treatment for Erb's palsy
Due to the fact that most newborns with brachial plexus injuries recover on their own, a doctor will likely monitor the child until his or her symptoms subside. Children with a more serious form of Erb's palsy may require daily physical treatment.
Since the child cannot easily move his or her affected arm alone, parents must be consistently involved in keeping the child's joints and arm limber. A doctor or physical therapist should show parents how to perform the exercises necessary to improve the child's strength and dexterity. Daily physical therapy and exercises designed to increase the child's range of motion in his or her arm, shoulder, elbow, wrist and hand are extremely helpful. The exercises should be done as much as possible during the day, beginning when the child is about three weeks old.
Surgical treatment for Erb's palsy
If you notice little to no improvement in your child's symptoms despite regular physical therapy over a three to six month period, surgical intervention may be necessary. Exploratory surgery may help determine the specific extent of damage to your child's brachial plexus and also assist in developing an appropriate method of treatment. While severe nerve damage cannot always be repaired, there are surgical options which may improve your child's motor functioning.
To determine which treatment is right for the child, it is highly recommended that you speak with a physician who is experienced at treating Erb's palsy and similar birth-related injuries. Depending upon the circumstances, your doctor may decide that surgery is not appropriate until the future and as such, may wait until your child is older before choosing to treat his or her injuries.
How can Erb's palsy be prevented?
Although not all birth injuries can be prevented, there are certain steps that can be taken in order to minimize the risks associated with developing Erb's palsy. As a preventative measure, mothers can:
Seek regular prenatal care – This includes having your blood sugar monitored as well as the other risk factors associated with Erb's palsy;
Take prenatal vitamins – Follow a healthy diet, take your doctor-recommended supplements and remain as active as your doctor suggests during your pregnancy;
Consider having a c-section – If it's suspected that your child is overly large, he or she may be at risk for being lodged in the birth canal;
Plan ahead – Make sure to receive education about the risks associated with labor and delivery and be prepared to make decisions if emergent situations arise;
Ask the nurse, midwife or doctor questions – Inquire about how they address situations such as macrosomia and other birth complications;
Be sure physicians and other medical personnel keep you in the loop at all times, no exceptions – It's helpful to remain informed at every stage of your pregnancy, labor and delivery. You deserve to be kept informed.
Stern Law, PLLC is a team of medical-legal professionals who remain committed to providing you with answers, hope and the information you need to make important decisions about your child's case. Please call (800) 462-5772 to talk to an experienced Erb's palsy lawyer today. Someone is available 24 hours a day, seven days a week to answer all your questions, absolutely free.