Patty's Case: A Story of One of Ken Stern's Most Memorable Clients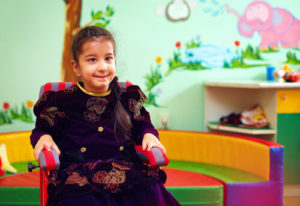 In my thirty years of practice representing families touched by birth injuries, there is one little girl that, to this day, I have never forgotten. The little girl, named Patty, and her mother consulted with me after she had been stricken with Erb's palsy during her birth due to medical negligence. Her mother felt desperate, as several treatment methods had not improved Patty's disabilities which included limited movement and weakness in her right arm. Patty told me how sad it made her feel to see other kids in school being able to swim and catch a ball. She was often left on the sidelines to watch the other kids, and she was missing out on the fun.
After an initial visit, I recommended that Patty and her mother consult with a professional who happens to be a surgeon focused on brachial plexus injuries. He treated Patty right away with surgery and then injected her with Botox to relax her stronger arm muscles in order to help her build her weaker ones. After a few months, Patty regained full use of both arms, and now is happy, healthy and fully ambulatory. Little Patty recovered from her injuries, and I am honored to have helped her mother obtain the compensation she deserved for the years of challenges Patty experienced as a result of her birth injuries.
It is the countless stories like Patty's that have kept me so inspired. This work matters so much to me because I know the difference Stern Law, PLLC can make. Of course every case is different, and because of this results may vary in another child's case. But for me, there's no greater joy than the look of relief on a mother's face when she first learns that her child will finally be taken care of, with all the needed therapies, medication and treatment, special education and financial benefits required to create opportunities for her child. There's just no substitute for the tears of joy I have seen streaming down a mother's face as she watches her nine-year-old son, after receiving two weeks of revolutionary physical therapy, take his first steps after using a wheelchair for so long. There's no greater sense of gratitude than when a child with many challenges, and whose case was just concluded, is able to write me a message on an electronic tablet, thanking me for help.
My name is Ken Stern. I have been fighting for the rights of children like Patty for over 30 years. If you have a child facing similar circumstances and you're unsure where to turn, I would be happy to review your case at no charge. Please call Stern Law, PLLC at (800) 462-5772 if your child is suffering from Erb's palsy or another form of serious birth injury.