Complications of Birth Asphyxia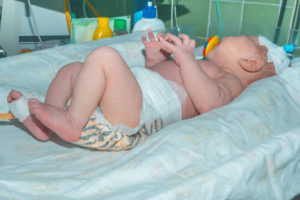 Oxygen deprivation is a leading cause of brain damage among babies. Failure to prevent asphyxia during labor can result in life-altering trauma.
Please call Stern Law, PLLC at (800) 462-5772 to find out if your family is eligible for compensation in a brain injury case involving your child.
[videosingle id="13861″ width="95%" height="400″ /]
What Are The Complications Of Birth Asphyxia? from The CP Lawyer | Stern Law, PLLC on Vimeo.
Complications associated with oxygen deprivation
If a child receives insufficient oxygen, possible outcomes include:
Fetal distress – This condition occurs when a child experiences sustained periods of fluctuating heart rates due to complications that arise during pregnancy, labor or delivery. Typically, fetal distress is caused by a lack of oxygen, which can be caused by a number of factors.
Cerebral palsy – Also called CP, is a condition that manifests as a result of fetal hypoxia that occurs during labor and/or delivery. Specifically, CP affects a child's body movement, muscle control, muscle coordination, muscle tone, reflex, posture and balance. It can also impact one's fine motor skills, gross motor skills and oral motor functioning. For more information, you can also click here to learn everything you need to know about the causes of, treatments for, and prevention of cerebral palsy.
Hypoxicischemic encephalopathy – This is a condition where an unborn child's brain does not receive enough oxygen and blood.
Periventricular leukomalacia – This type of brain injury involves the death, or necrosis, to the white matter of the brain due to lack of oxygen or blood flow to the ventricles (nerve fibers that transmit messages from the brain to the muscles of the body), or the periventricular area around the parts of the brain.
Developmental delay – A lack of fetal oxygen can cause delays in a child's motor, physical, speech and mental development.
Mental retardation – Sustained periods of little to no oxygen is one of the ways in which an otherwise healthy fetus can become mentally disabled at birth.
Seizure disorders – Certain types of head and brain trauma can undoubtedly cause seizures as well as seizure disorders in a newborn. Specifically, if a post-term child's head cannot pass through the birth canal, his or her oxygen supply may be compromised. As a result, certain seizure disorders may arise due to the lack of oxygen and other complications associated therewith.
Paralysis – Lack of fetal oxygen and excessive force used during delivery are some of the ways in which a fetus can be partially or fully paralyzed at birth. Due to the fact that a post-term pregnancy may involve an obstructed vaginal delivery, sometimes more force as well as certain obstetric instruments may be necessary to free a child from the birth canal. Therefore, injuries such as paralysis may be more likely.
[videosingle id="29344″ width="95%" height="400″ /]
How Often Is Cerebral Palsy Caused By A Lack Of Oxygen? from The CP Lawyer | Stern Law, PLLC on Vimeo.
Studies link oxygen deprivation to ADHD
Eighty-two thousand records of 5-year-old aged children were analyzed in a study conducted by Kaiser Permanente and published in the journal Pediatrics. This revealed that babies who experienced in-utero exposure to ischemic-hypoxic conditions (oxygen deprivation) were much more likely to develop attention deficit hyperactivity disorder (ADHD) later in life as compared to unexposed children.
In light of these results, researchers noted that the study demonstrates how children who suffered from lack of oxygen may suffer from greater harm than just structural and functional abnormalities of the brain, as demonstrated in previous studies. Moreover, the study provides that the association between oxygen deprivation and ADHD was most significant in preterm deliveries, breech births, and those involving umbilical cord complications. These associations were found to arise even after controlling for gestational age and other potential complications. Overall, researchers are touting this study as promising for obstetric specialists, who now have the ability to better identify newborn babies at risk for developing hypoxic condition-related ADHD and other serious conditions. Click here to review the entire study.
Hypothermia treatment errors
Hypothermia treatment, also known as brain cooling treatment, is most often used to address the complications that newborns face who suffer from birth asphyxia. Specifically, this type of treatment involves cooling down a child's core body temperature to about 91 degrees Fahrenheit for about 3 days (or, a total of 72 hours).
Overall, the main purpose underlying this type of treatment is to allow an infant's brain cells to recover after a sustained period of being deprived of vital and life sustaining oxygen. In other words, it avoids further brain damage from occurring should blood flow and oxygen levels be restored too quickly during the birthing process. According to medical research, newborns who suffer from oxygen deprivation should receive hypothermia treatment within six hours of birth and be at least 36 weeks gestation.
Sometimes medical mistakes can occur when a child receives hypothermia treatment, leaving him or her with life threatening and sometimes permanent injuries. These errors are typically arise as follows:
Failure to provide a child with hypothermia treatment within 6 hours of birth.
Unnecessarily ordering hypothermia treatment to a child who does not need it.
Failure to advise the parents of a child who suffered from oxygen deprivation as to all of their medical treatment options, including hypothermia treatment.
Failure to transfer a newborn to a facility that is capable of administering hypothermia treatment.
Failure to have policies and protocols in place regarding the administration of hypothermia treatment.
Failure to train doctors and other medical professionals in administering hypothermia treatment.
While there are numerous lawyers who are capable of filing birth injury cases, there are very few who truly understand the complexities and challenges associated with oxygen deprivation and birth asphyxia claim. Our legal team has the in-depth knowledge and experience to provide you qualified legal guidance as well as to answer questions outside of the legal realm. Call Stern Law, PLLC for a free review of your case today: (800) 462-5772.