Vaginal Birth After Cesarean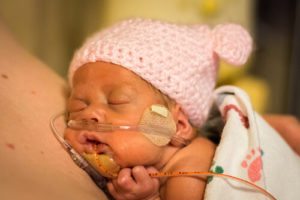 Many women have questions about VBAC, or vaginal birth after cesarean. This refers to a vaginal delivery by a woman who has previously had a cesarean section (or c-section). Under the supervision of qualified medical professionals, this procedure is often safe and highly successful for most women. In fact, about 60 percent to 80 percent of women who have had a prior cesarean section are able to deliver subsequent children vaginally.
However, there are still a number of situations where a vaginal birth after Cesarean can be extremely risky, and is therefore not recommended. If a doctor failed to properly warn you about the inherent risks of having a VBAC and you or your unborn child suffered serious injury, Stern Law, PLLC can pursue compensation on your behalf. Please call us at (800) 462-5772 for a free consultation.
How does a doctor determine who makes a good candidate for VBAC?
Typically, the best VBAC candidates are those who have had:
A low "transverse" incision, which is ideal for a woman seeking a VBAC. However, this applies only if you have had no more than two low transverse cesarean births.
A previous vaginal delivery, whether before or after a previous cesarean section.
No additional scars or previous uterine trauma.
The reasoning for undergoing your first cesarean is not repeated in your current pregnancy.
No prior history of diabetes, genital herpes, hypertension and obesity.
A period of at least 18 months or more since your last cesarean section.
A single birth rather than multiples.
The unborn child is in the correct position and is not overly large to pass through the birth canal.
You are in good health.
How does negligence arise in VBAC cases?
At times, errors in medical judgment by doulas, midwives, doctors and hospital staffs can arise during or before a VBAC, which may result in serious and sometimes irreversible injuries to you and your baby, such as a uterine rupture. These include:
Failure to warn and/or inform you of the benefits and risks associated with a VBAC
Allowing you to undergo a VBAC when you are not a proper candidate for the procedure.
Failure to act quickly enough in abandoning a VBAC in order to perform a cesarean delivery.
Attempting a VBAC in a medical center that has under-trained staff or is not equipped to handle obstetric emergencies, such as cesarean sections.
Failure to monitor a fetus during a VBAC or failure to respond to the signs and symptoms of fetal distress.
Failure to have institutional policies and procedures in place to effectively respond to a VBAC-related obstetric emergency.
Several factors govern whether a VBAC is a safe method of delivery. Medical practitioners are responsible for analyzing all of the relevant circumstances and making the best decision possible as to whether a VBAC is appropriate in your case.
If you or your baby suffered trauma related to VBAC, please contact Stern Law, PLLC by calling (800) 462-5772 for a free evaluation of your case.