Isabelle and Mary's Story: An Unforgettable Case of Medical Negligence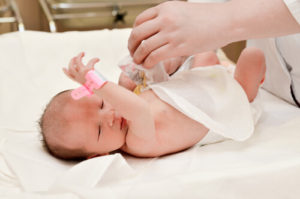 A few years ago, I received a phone call from a woman named Mary. She urged me to meet with her as soon as possible. During our initial consultation, she told me that soon after her daughter Isabelle was born, she started noticing that something wasn't quite right. Her child failed to feed properly at birth, was irritable and at times, and inconsolable when held or touched.
Mary further stated that despite how much she told the doctor that something was wrong with Isabelle, he kept asserting that because her daughter was born prematurely, Isabelle's symptoms were completely normal. After being released from the hospital, Mary stated that her daughter continued to display these symptoms. Within a week after birth, Isabelle started having seizures, and as a result, was rushed to the emergency room.
After only a short period of time, the emergency physician identified the problem – neonatal hypoglycemia. He told Mary that if her child's pediatrician had tested her soon after birth, she would have been immediately treated and spared all of the complications.
Importantly, Mary is a diabetic, and this should have immediately influenced the doctor to run tests to see whether Isabelle had NH. I was able to secure a significant settlement for Mary and her child, but no amount of compensation can cure Isabelle's brain damage and other serious problems.
It is cases like Mary and Isabelle's that have influenced me to continue fighting for children and families affected by medical negligence. This work matters to me in every way, since I know the difference my efforts can make for a family struggling to support their child's special needs. Of course, every case is different and the results may vary in your child's case. Notwithstanding this, there's no greater joy than the look of relief on a mom and dad's face when they first learn that their child will be taken care of, with all the needed therapies, medication, treatment and education necessary to afford the child opportunities to lead a normal life.
I'm attorney Ken Stern. With more than three decades of legal experience representing birth injury victims and their families, I know exactly how challenging it can be for parents to deal with the constant uncertainty associated with affording to provide for their special child. For a free consultation with Stern Law, PLLC, please call (800) 462-5772 today.