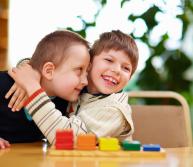 Children and teens spend most of their time on school grounds. According to The University of Michigan adolescents spend around 32.5 hours a week around the classroom. That number does not include the extra hours that are made up by after school activities that include sports, clubs and events like dances or award ceremonies. Every parent wants their child to have a normal life. For parents of children with disabilities, this time spent in a school setting can make or break their child.
The environment of school is key to the success of a student. If students do not feel safe or cannot perform to the best of their ability due to limitations of outside factors it can affect their health and stability. If children do not receive the proper education and environment they need, it can lead to ugly consequences and limit them to living to their full potential currently and later down the road in life. There are laws in place that some parents do not know about that can help protect their kids' lives in the classroom and on school grounds.
Section 504
Section 504 of the Rehabilitation Act of 1973, is a civil rights law that forbids discrimination such as exclusion or denial of benefits due to a person's disability. This law touches all programs or activities that receive federal financial assistance or that are managed by the government. Under the law, the programs or organizations that receive financial assistance includes more than just money, it includes donations, services and the use of government space or property. This involves schools, parks, playgrounds, after school programs such as clubs or sports and all the way up to churches. This also means employers that receive funding which includes hospitals or mental health facilities.
Most people believe that disabilities are ones that are visible, this is not true. Section 504 recognizes and guards the rights of individuals with "invisible disabilities" as well. These include depression, alcoholism, drug addiction, diabetes, learning disabilities, allergies and chronic illness. The civil rights act considers individuals with disabilities as people with a physical or mental impairment that limits one or more major life activity, people who have a history of this or regarded as having this. Some of the major life activities include taking care of one's self, working, hearing, seeing, performing manual tasks or learning.
This civil rights law would come into play if a child is denied being on honor roll because they receive extra help from classroom aids, is told they cannot go on a field trip because the site is not wheelchair accessible or the school refuses to dispense a medication that the child needs during school hours. Section 504 also will protect children from receiving discipline like being expelled for behavior that is related to their disability. If a student is not being treated fairly, their academic performance will suffer. Not only that but bad feelings associated with school might lead to a child to wanting to drop out before graduation. If teachers or peers are acting a certain way towards a child, how will that give them a view of the word outside of school?
Section 504 also pertains that bullying and harassment based on disability is illegal. The Department of Education's Guide to Section 504 states the law prohibits harassment and bullying to a student with a disability because it may deny a student equal educational opportunities and can create a hostile environment. An example of this unlawful behavior would be a peer calling names like "stupid" or "spaz" to a person with ADHD. For someone who has Cerebral Palsy this could be another student placing objects to block the path of their wheelchair or making fun of them if they have to wear leg braces. Any type of harassment or bullying to a person with a disability no matter if it is about their appearance, socio economic status or disability is counted as being unlawful. Furthermore, because this law relates to everyone with a disability, acts of discrimination towards parents, grandparents and the general public with disabilities are prohibited as well. Meaningful accommodations must be made so that parents with disabilities can attend school events like parent teacher conferences, plays or sports events. No parent should be left out in the process of giving feedback, praise or watching a loved one perform.
If a student is qualified to fall under Section 504 they can receive a 504 plan. A 504 plan is for students to receive accommodations to help them. Some things included in accommodations for the 504 plan could be preferred seating, extended time to get to class, extended test taking time or typing assignments instead of writing the answers by hand. Someone with severe anxiety who receives panic attacks from public speaking could be allowed to do presentations only in front of the teacher instead of having to do them in front of the whole class.
Individuals with Disabilities Education Act
Another law that is in place to help is the Individuals with Disabilities Education Act (IDEA). The IDEA law entails students with a disability are given a Free Appropriate Public Education (FAPE) that is personalized to fit their individual needs in the least restrictive environment. IDEA runs how state and public organizations deliver early intervention, special education and other related services to those with disabilities. It provides bonus educational services in addition to typical services that are given to all students. The goal of IDEA is to offer children with disabilities identical opportunities for education as their non-disabled peers. Not all students with disabilities are eligible for IDEA. It only applies to eligible students who are ages 3-21 whose disability (listed under IDEA) disturbs the child's educational performance or power to benefit from the education.
If they fall under the criteria for IDEA, a student can receive an IEP plan. An IEP is an Individualized Education Plan which includes evaluation of the students' academic history, a plan to reach educational goals and additional services a child needs. A 504 plan is usually for students who are not eligible for special education services and can participate in the general mainstream education program. Where an IEP usually includes services such as special education, speech therapy, occupational or physical therapy. If a student qualifies for IDEA then they automatically fall under the protection of Section 504.
Since the IEP dictates how the programs will be performed, it is illegal for schools not to oblige on their agreements. The IEP gives you the authority to know how exactly your student is being educated and to make changes if goals or services are not being achieved. This ensures that a child is not left behind in the dark in receiving a proper education. The IEP is in place so that they can succeed outside of school as well. To prepare them for further education, employment after school and independent living.
Living with a disability can sometimes limit you. However, a child with a disability should not be limited in receiving the same opportunities as their peers. It should not alienate you from anything. A parent or child should not be fearful to speak up when being treated differently because of their disability. People also should not be afraid of disclosing that they have a disability even if it is not visible to the naked eye. It is hard enough sometimes to live with something that affects your daily life but to not be offered help to overcome it is even harder. If you have a child with a disability, physical or mental impairment make sure you know their rights.
If you need information or help protecting your child's education rights, please call us at 800-462-5772. We can help you advocate for the success of your loved one and help make a difference in their future.