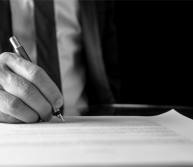 We, as a society, live in a time in which jokes at the expense of lawyers are quite common. The sad reality is that there are some self-serving attorneys who admittedly give our profession a bad name. However, the stereotypes and apprehension that can follow the 'stereotypical personal injury attorney' differ greatly from the compassionate services and dedicated efforts of many birth injury lawyers. The differences between these two professional categories can mean a world of difference for families with children who have suffered a birth injury, and it's important to understand this difference if you find yourself looking for an experienced attorney to help you and your child with CP.
First, birth injury lawyers should not expect a retainer or upfront fees in order to review and/or handle the case of a child diagnosed with Cerebral Palsy. Litigation for birth injuries can last for quite a while and parents should not be expected to foot the bill for legal fees until the case settles, or goes to trial. Birth injury lawyers need to be professionally established and financially stable enough to see your case through from start to finish, without putting even more financial stress upon you and your family.
Why Is It Important To Hire A Birth Injury Lawyer? from The CP Lawyer | Stern Law, PLLC on Vimeo.
Second, some birth injury lawyers concentrate exclusively in this challenging area of the law and medicine. While a general personal injury attorney may be aware of various general medical experts that he or she may rely upon for testimony, birth injury lawyers retain and work with medical experts who specifically work within the realm of birth injury. In cases involving Cerebral Palsy or other birth injuries, having a medical professional to testify on your child's behalf that is well regarded and is specifically focused on diagnoses and conditions that are to your child is essential.
Third, birth injury lawyers should be extremely well versed in medical terminology and be capable, at any time, to walk you through components of your medical records as well as claims made by medical professionals or doctors. Birth injury cases can be lengthy and involve a wide assortment of steps for you and your family to go through. The ability to explain these stages and what they mean for your child is essential, as is having a complete awareness of what your family will face in the decades to come. Where an attorney who works outside the realm of birth injuries may look for a possible settlement to speed things along, a birth injury lawyer understands the value of Lifetime Benefits and will work hard to ensure your child is financially taken care of to the maximum extent permitted by law.
When Should A Parent Contact A Cerebral Palsy Attorney? from The CP Lawyer | Stern Law, PLLC on Vimeo.
We take great pride in the work we do on this blog and on our Facebook Page in terms of providing an unbiased perspective and catalog of information relating to birth injuries and Cerebral Palsy. We promote the availability of resources like Medical Legal Reviews and Lifetime Benefits to ensure parents understand that they definitively need and deserve, with the assistance of our medical-legal team, to look into the medical records of their child and find out if more could have been done by professionals to avoid Cerebral Palsy. When that CP is deemed preventable, a child's eligibility for Lifetime Benefits must then be pursued vigorously due to the impact early intervention and lifetime care and financial support can have.
If you would like to find out more about your child's Cerebral Palsy or birth injury, or would like to better understand the difference between a personal injury attorney and a birth injury lawyer, please feel free to contact us at your convenience. We look forward to answering your questions and helping in any way we can!