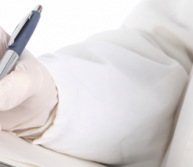 That a healthy baby may suddenly experience injury or trauma, resulting in Erb's Palsy or Cerebral Palsy can be tragic. Medical professionals must work carefully to ensure strict professional standards of care are followed while also making the delivery process safe without risk to mother and child. The use of forceps is one way in which a child can be delivered, but can be disastrous when forceps are utilized improperly. If you have a child with Cerebral Palsy and forceps were used during his or her delivery, it is important you find out more about what happened.
First, it is important to note that the use of forceps for delivery can be an effective way to bring a baby into the world. These long, tong-like instruments are designed to navigate the birth canal and extract the baby by grasping the body. During a prolonged delivery and/or when there is an obstruction preventing the child's delivery, forceps can be extremely important in expediting delivery, while limiting the chance for damage.
The problem, though, is that these long, age-old utensils can also cause significant harm to the child. Improper use of forceps can lead to:
Any one of these injuries can set in motion a sequence leading to developmental delays and Palsy diagnoses including, possibly, Erb's Palsy or even Cerebral Palsy. The problem with forceps overlaps with their intended use – when used properly, forceps allow for a child's head to be turned or extracted; when used improperly, forceps can lead to excessive pressure that leads to hemorrhage, hematomas, skull fractures, broken bones and more. Mothers can also be harmed by improper use of forceps, with possibilities including tearing, bruising, lacerations, bowel problems and post-partum pain.
Though forceps have been used for hundreds of years, they still require delicate skill to avoid catastrophic harm. If your child was born with fractures or significant bruising, it's important to review you and your child's medical records to find out what processes were used to deliver him or her. If the use of forceps is involved, request a Medical Legal Review to understand and preserve your child's rights. A Medical Legal Review involves knowledgeable members of our medical-legal team analyzing the medical decisions made, while examining for deviations from well-established standards of care.
In the event forceps use can be linked to your child's Erb's or Cerebral Palsy, Lifetime Benefits can be pursued that will help pay for care now and for years to come. Lifetime Benefits, regardless of your income, may be available to help pay for therapy, housing, treatment, equipment and more, making an incredible impact on the lives of the family and child who experienced preventable Cerebral Palsy.
For more information on forceps, Cerebral Palsy, Medical Legal Reviews, Lifetime Benefits or any other element involving your child's special needs, contact us through our simple form or by calling 800-462-5772 today!