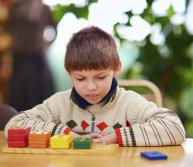 A Cerebral Palsy diagnosis is shocking for any parent, especially when the pregnancy featured no complications or warning signs of other problems. Questions like 'how did this happen' or 'what more could have been done' are often pushed to the side because of the need to confront the present, head-on. While many parents may immediately associate a Cerebral Palsy diagnosis with a dire prognosis for their child's future, the truth is that there are often many options when it comes to improving potential and options for your child. This is why the importance of early therapy for children with CP cannot be overstated; the difference it can make is simply critical for the abilities and opportunities yet to come.
Early intervention is a topic we have delved into before as a critical stage in your child's ongoing success story. Therapy is a key part of this process, due to the physical symptoms that can manifest from the brain injury resulting in Cerebral Palsy. While this may seem obvious, the truth is that parents are often understandably more focused on making each day better that they may miss opportunities to pursue long-term therapy goals that can truly impact your child's future.
Therapy for children with Cerebral Palsy is commonly categorized in several main forms:
Physical Therapy (PT) – efforts made to improve muscle and motor function that may be limited due to symptoms associated with Cerebral Palsy
Occupational Therapy (OT) – those therapy methods aimed at improving a child or individual's ability to carry out 'daily' or 'everyday' activities associated with the home, school, public activities and work
Speech/Language Therapy (ST) – therapy focused on improving communication, enunciation and circumventing physical and mental impairments that limit a person from speaking effectively
Each of these therapy efforts can take place at a wide range of ages because, ultimately, the goal is limiting the barriers associated with a child's Cerebral Palsy. When therapy is carried out earlier into a child's life, the brain is retrained to carry out actions that are otherwise inhibited by damage associated with the brain injury suffered resulting in CP. Where neural connections in an unharmed brain would connect, for instance, from point A to B, therapy can work to find a different connection to achieve the core result in function.
While this is a cursory overview of the therapy types available to children with Cerebral Palsy, early intervention provides the best chance for long term success, rather than delays or suspended efforts. Unfortunately, these therapy efforts can come at great cost, resulting in some parents having to pick and choose amongst them, or suspend them entirely due to gaps in insurance coverage or an inability to privately pay the remaining cost to the family. Because of the significant cost associated with therapy for a child with Cerebral Palsy, it is important that parents explore all of their options, not only to assistance programs available, but also eligibility for Lifetime Benefits.
Through a Medical Legal Review, a parent can have a team of professionals from medical and legal backgrounds review the circumstances surrounding the birth and determine if your child's Cerebral Palsy was preventable. When CP was not a foregone conclusion but, instead, caused by the actions (or inaction) of a medical professional, Lifetime Benefits can fund decades of therapy, equipment, education, care and more to help curb the impact of this improper care. Even if a Medical Legal Review reveals nothing different could or should have been done, parents can still be connected to programs and resources associated with helping children with Cerebral Palsy.
For more information on the Medical Legal Review process, or therapies available to children with Cerebral Palsy, and to explore other elements and ideas associated with this condition, please contact us by calling (800) 462-5772 or filling out our online form today!