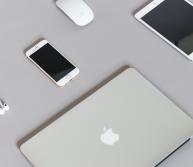 Your child's ongoing therapy and care has critical value for the future. Early intervention is the name for those treatment efforts made in a child's early years that aim to retrain the brain to overcome the injury resulting in Cerebral Palsy. These efforts help to not only make an impact on your child's day-to-day life, but also open new doors for the future. A child's current status can be improved by these efforts, but can be supplemented through adaptive equipment and assistive technology.
First, adaptive equipment: devices intended to help make up for challenges your child faces, these can be critical for enabling day-to-day tasks. Ranging from AFOs to braces to canes and more, adaptive equipment can be a critical component in allowing your child to be mobile and active. These devices may seem to be an obvious component to your child's ongoing treatment, but be aware of limits your insurance may have in terms of replacements as your child grows or as needs change.
Similar to adaptive equipment in terms of serving as a companion to your child's success, assistive technology works to break down limits that exist and complement existing abilities. Assistive technology can come in a wide range of forms, varying in complexity. Where one example can be a simple tablet or smartphone that contains educational elements, other types of assistive technology may involve computers, eye-tracking technology and more. Like adaptive equipment, assistive technology can lead to greater potential and capacity. Staying on top of the options available can help parents improve a child's day-to-day activity level or learning, but also pave the way for a brighter future.
Both of these options can be expensive, but integral for your child's ongoing development, not only in the present, but for decades to come. Insurance companies, depending on their coverage, can either be a strong partner or an impediment to getting these resources. While programs can serve as a bridge for accessing adaptive equipment or assistive technology, there is always more that can be done for the special needs community.
This element of more being available is a key reason we have partnered with organizations like CerebralPalsy.org to make kits and assistance information available to families of children with CP. If you have questions about charitable organizations, government resources, camps, product options, etc., don't hesitate to contact us at (800) 462-5772 today!
One other area of assistance to consider is the Medical Legal Review process. Focused on determining if a child's Cerebral Palsy was preventable, this short interview can reveal a wide assortment of assistance to help your child reach their full potential. Children who qualify for Lifetime Benefits can receive enough funds to cover the adaptive equipment, assistive technology, housing, education, therapy, care and more. For more information about Lifetime Benefits and requesting a Medical Legal Review to determine the cause of your child's Cerebral Palsy, call our offices at 800-462-5772 or fill out our online form today!