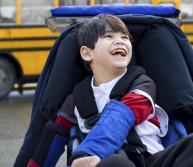 We have discussed at length the nature of Cerebral Palsy and its various causes. It is a fact that here are very few ways in which a parent can be certain of the cause of a child's CP; short of physical abuse or the use of extreme street drugs, Cerebral Palsy is not due to a mother's actions. And yet, far too many parents still carry a burden of guilt within them as they face their child's diagnosis. This is why we recommend a review of a child's Cerebral Palsy diagnosis; all too often, having answers to whether more could or should have been done by the doctors and medical team is the only way to alleviate this unnecessary burden on parents.
Determining the Cause of Cerebral Palsy
What does a review of a child's Cerebral Palsy diagnosis require? In short, a Medical Legal Review examines the circumstances surrounding the pregnancy, delivery and post-birth care. Utilizing the recollection of parents through a phone interview and supplementing it with a review of medical records, this process examines what actions were (and were not taken) by the medical professionals entrusted with your child's safe delivery.
Who is involved in a review? Medical experts and legal professionals typically examine the steps taken by doctors, nurses and other medical professionals involved in your pregnancy and child's birth. These team members have significant experience in standards and practices surrounding healthy births and will look for red flags indicating deviations from these so-called standards of care. In doing so, they will explore if any departures from accepted practice occurred, some of which may have resulted in a preventable case of Cerebral Palsy.
Why do answers surrounding a child's CP matter? In short, answers could mean everything. Beyond having a better understanding of what went wrong in the pregnancy, delivery or post-birth care, you may also learn to what extent medical professionals may have harmed your child. Knowing you received the best care possible can eliminate plenty of What Ifs from the future. If it reveals more should have been done, Lifetime Benefits may be possible that can help your child for decades to come.
What are Lifetime Benefits? Funds set aside in a special trust just for your child, Lifetime Benefits help pay for any and all expenses associated with your child's Cerebral Palsy. Whether involving educational costs, adaptive equipment, housing, therapy, assistive technology, medical procedures… Lifetime Benefits look to enable your child to overcome hurdles created by this preventable Cerebral Palsy.
As you can see, there is so much to gain when it comes to getting answers surrounding your child's Cerebral Palsy. At minimum, you may find out that your child's CP was unavoidable and the medical assistance you received was exactly what you deserved and needed. If the review results in red flags or that that key warnings were missed, your child may be entitled to a lifetime of financial security and independence. And with a Medical Legal Review provided free of charge, there's no reason not to contact us today!