As the parent of a child with Cerebral Palsy, you probably already know a little preparation goes a long way in making sure your travel experience is as seamless as possible. Once you have booked transportation and accommodations, and have developed a plan for how to get around and what you will carry with you as you travel, you may be wondering what you and your child's legal rights are in relation to various modes of transportation. The blog post below serves as an overview of the laws and regulations you may want to inform yourself of before you embark on your family's adventure.
Traveling By Air With a Child With Cerebral Palsy
Air travel is one of the fastest ways to get where you want to go. You can easily travel overseas and other long distances in just a matter of hours by plane. Below are the two most relevant laws affecting air travel with your child.
Americans with Disabilities Act (ADA): The ADA requires airplanes and their related facilities to be accessible to people with disabilities. This Act also applies to buses and trains.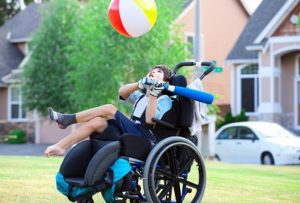 Air Carrier Access Act: The ACAA prohibits discrimination against airline passengers with disabilities. Because of this act, airlines are required to accommodate children and adults living with Cerebral Palsy and other special needs.
You are not required to give the airline advance notice of your travel; however, the airline is within its rights to require up to 48 hours notice if your child has any needs the airline must prepare for, such as transporting an electric wheelchair on an aircraft with less than 60 seats.
On the airplane, you can bring the adaptive equipment and mobility devices your child needs, including a wheelchair. These items are given priority over other carry-on baggage in the overhead storage bins, and will not be included in the limit you are given for carry-on items.
Access the special needs assistance hotlines for major airlines, as well as learn more about TSA guidelines and more, by checking out this post on flying with a child with Cerebral Palsy.
Traveling By Train With a Child With Cerebral Palsy
Traveling by train remains a great way to get around the country. For Amtrak, here are some of the more salient points regarding travel with a child with Cerebral Palsy:
Book at least 2 weeks in advance for the best chance at reserving accessible seats or accessible cabins. Trains have a limited number of accessible accommodations, so booking well in advance of your trip is the best way to secure these accommodations.
Trains must be ADA compliant. This means the train and platforms must be accessible to people with disabilities.
Today's modern passenger trains are much more comfortable for passengers with special needs than they were in the past. Large, accessible cabins and seating can make for a pleasant, scenic excursion by train.
Traveling By Bus With a Child With Cerebral Palsy
Greyhound is the most common example of a bus line that travels across the country. There are also chartered buses and tour buses that can take you and your family to a variety of travel destinations. Like other modes of transportation, buses must meet certain requirements to ensure people with special needs are able to board. Here are some things to know about travel by bus:
Buses must be ADA compliant. The ADA sets guidelines for how steep a ramp can be. The ADA also requires bus drivers to complete compliance training, so that they are ready to assist passengers who need to use the lift or ramp. If you request to use a bus lift, the driver is required to acquiesce. You can and should report any noncompliance so that the driver may be properly re-trained.
Inform the bus line in advance of your travel. This way, the bus personnel can address any of your needs or requirements before you embark, lowering the risk of hassles the day of your travel.
Every type of bus should have a properly functioning ramp to help passengers with special needs onboard. Once on the bus, there should be restraints for securing wheelchairs in place.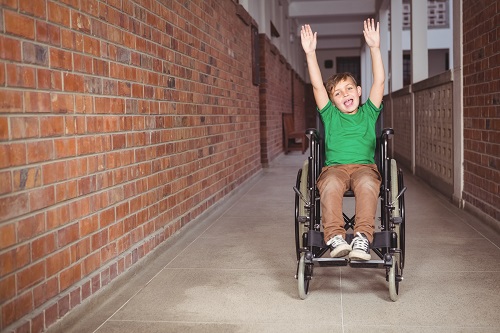 Making Your Trip As Hassle-Free As Possible
There is a lot to consider as you plan your summer vacation. Please read more about accessible travel vacations so that you feel confident about your trip. Here are a few more pointers:
Don't forget your placard for accessible parking if you will be using a rental car during your trip
Bring a copy of your child's medical records so that if any problems arise, you will have all of your child's medical information
Check the websites below for plane, train and bus specific information:
Summer vacation is an important opportunity for families across the US. The ability to sync your vacation from work with your children's school vacation provides a rare opportunity to take an extended trip together. It can be a most precious chance to create lasting memories with your children, and to show them a part of the city, state, country or world that they've never seen before. Although traveling with a child with Cerebral Palsy may present some challenges and will certainly require extra planning, ultimately the experience of sharing an adventure with your child can be incredibly rewarding.
The team at Stern Law, PLLC, is personally committed to helping families like yours thrive. We welcome the opportunity to provide helpful information about the legal rights of children with Cerebral Palsy and believe in helping children with CP live full, happy lives, and are happy to answer any questions you have about your legal rights while traveling. To speak with us, please call (800) 462-5772.