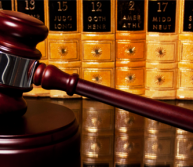 You may have heard of a legal phrase referred to as 'statute of limitation.' Often, when people hear that term, they think of the amount of time a person can be charged for crimes like cheating on their taxes or robbing a store. However, a different, much more relevant set of statutes of limitation are critical for parents of children living with Cerebral Palsy. The potential losses can often far exceed any money gained in minor tax fraud or petty theft, though, and may involve significant amounts of money being taken away from your child. A child already forced to accept the reality of living with CP that may have been preventable, now can be harmed a second time simply due to the passage of time.
In short, a statute of limitation involves the amount of time that can pass without filing a lawsuit for certain types of conduct. In the tax example, it would involve the number of years from the alleged fraud that the IRS could pursue back taxes; in theft, it's a running clock on the years after the incident took place. For issues of Cerebral Palsy, statutes of limitation are much more complex.
What Is The Statute Of Limitations? from The CP Lawyer | Stern Law, PLLC on Vimeo.
Unfortunately, there is no national standard for a statute of limitations involving a birth injury. Because Cerebral Palsy can be caused by a wide assortment of factors, the onus is suddenly placed on parents to not only pursue an investigation, but to hire an attorney to handle the litigation as well, all within a short number of years. Because it can take months or even years to receive a diagnosis of Cerebral Palsy, many parents don't understand the full extent of the injuries suffered by the child at birth and miss out on their opportunity to pursue damages.
This must almost seems ridiculous to any parent … something that could be cleaned up with a simple news story explaining the damage caused by such damaging policies that should be changed. Instead, quite the opposite is the truth. Statutes of limitation continue to shorten, not grow, each year as states put increased pressure on parents who can use all the help they can get. The wide variation in years when legal action is possible, varying from a mere 3 years in one all the way to 21 (or higher) in others, makes the idea of having wide variations in the statute of limitations for a birth injury all the more absurd.
So what can you do? This varies based upon your situation and your connection to Cerebral Palsy. For advocates and adults with CP, people can notify their legislator on this issue or pay close attention when the issue comes up during a legislative term. For parents of children with Cerebral Palsy, the first step you should take is to have a Medical Legal Review done for your child as soon as possible. Doing so can help you move as quickly as possible to preserve your child's rights under your state's statute of limitations, especially if time is closing in. You can have a free Medical Legal Review done for your child by contacting us through our simple form or by calling (800) 462-5772.
The reason your state's statute of limitations for a birth injury, especially one resulting in Cerebral Palsy, is so important is due to preserving eligibility for Lifetime Benefits. Available for children whose Cerebral Palsy could have been prevented, based upon a violation of medical standards by medical professionals, Lifetime Benefits serve frequently as a Trust to help pay for the wide variety of costs associated with CP. Lifetime Benefits can help with adaptive equipment, therapy, treatments, assorted medical bills, housing, education and more.
Want to learn more about your state's statute of limitations or better understand your child's rights when facing a potential birth injury? Call us at (800) 462-5772 or give us your contact information to have a team member call you at your convenience. Looking to better understand preventable Cerebral Palsy in the meantime? Download our free eBook on Preventable Cerebral Palsy by clicking here now!