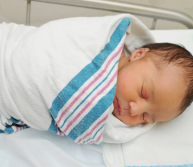 We have discussed in-depth the various ways in which "medical misinformation" can be presented by medical professionals regarding Cerebral Palsy. Whether it's using a different terminology that doesn't carry as much gravity, letting parents think it will not be a lifelong issue, that it may have been preventable or even by sometimes stating that these things just happen, too many parents as a result never receive the real story.
But what is the real story? This obviously differs in each unique case of Cerebral Palsy. For some, CP may have been the result of genetics or unavoidable delivery complications. However, for many others, the child's Cerebral Palsy could have been entirely preventable with proper medical care.
Preventable Cerebral Palsy is not widely discussed because of the unpleasant questions it raises about holding someone responsible. Medical errors that result in Cerebral Palsy raise questions doctors and hospitals obviously do not want to discuss and it is much easier, for many medical professionals, to simply explain that CP was unavoidable or preventable. Sadly, this is not always the case.
If you are wondering if your child's Cerebral Palsy was preventable, review your birth records or try to remember the circumstances surrounding the pregnancy and labor/delivery for any of the following:
Excessive delays in delivery, including the call for a C-section. When a child is in distress, either through a lack of oxygen or other medical emergency, a prompt C-section can be both crucial and necessary. Delays can result in a lack of oxygen for the child that, in turn, can lead to Cerebral Palsy.
Previous medical history related to birth complications. Somewhat similar to the previous point, complications may be predicted based upon the birth mother's previous pregnancies. If doctors fail to take into account these warning signs, a child's health can be impacted dramatically.
A difficult delivery resulting in a NICU stay. There are a wide number of circumstances that can lead to a difficult delivery, all of which are important to understand. Whether involving the failure to timely perform a C-section, misuse of forceps or other failures in the child's extraction, injuries suffered must be reviewed to see if the care provided met medical standards of care.
While these are just three types of circumstances that may lead to Cerebral Palsy, there are a wide variety of other conditions that must be analyzed by an experienced birth injury lawyer. Having your child's birth records analyzed as part of a Medical Legal Review can help provide important answers and, even more important, potential eligibility for Lifetime Benefits. These benefits can help pay for therapy, housing, equipment, treatment and more.
If you have questions concerning a birth that involved any of the items mentioned above, or for other matters you would like to have reviewed (including if your child's Cerebral Palsy was preventable), contact our offices today for a free review of your child's history and records. Please always remember, though, that time is not your friend in these situations. Though the laws in your state may vary, every state limits the amount of time that parents have to file claims on behalf of their child. In short, it's important to act quickly, and not delay should you decide to seek answers through a Medical Legal Review.