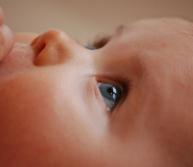 Many complications can occur when a baby is born premature. One of those complications that can happen to your loved one is Retinopathy of Prematurity (ROP). Retinopathy effects the blood vessels of the eye that can cause permanent blindness. If a baby is born premature, a mother should be aware of the importance of newborn screening to protect a child and halt the damages of Retinopathy. There are many different stages of the severity of the disorder that can happen to your infant. The best way to help prevent the instance of the retinopathy from happening is early intervention.
Retinopathy occurs when abnormal blood vessels grow in the retina, the irregular blood vessels can cause the retina to detach from the eye in which leads to loss of vision and blindness. The vessels in a baby's eye start to grow starting at 16 weeks into the pregnancy. When a baby is born prematurely this can halt the process of regular growth and result in abnormal vessels forming in the eye. These vessels can than leek and bleed which causes the retina to detach from the eye. Not every case is as severe as the next, there are five different stages of retinopathy.
Five Stages Stages of ROP
Stage 1 – Lightly distorted blood vessel formation
Stage 2- Moderate irregular blood vessel growth
Stage 3- Serious abnormal blood vessel growth
Stage 4- Partially detached retina and severe abnormal vessels
Stage 5- Complete retina detachment
The blood vessels that are affected by retinopathy cannot be seen by the naked eye. To make sure your child is in perfect health all infants that are born before 30 weeks or weigh less than three pounds, should be screened for Retinopathy. However, if your baby was born high-risk and is born after the 30-week mark, talk to your doctor about being screened for the disorder. Most exams will take place between four to nine weeks after a child is born. Make sure that the person checking for retinopathy has experience in ROP screening. If your child has already been discharged from the Neonatal Intensive Care Unit, be sure to speak with the ophthalmologist that your appointment is with to make sure they are specialized as well.
Treatment should start right away if your child has been diagnosed with retinopathy of prematurity. There are several different procedures that can help treat the disorder. They are laser photocoagulation, cyroretinopexy, scleral buckling and vitrectomy.
Laser Photocoagulation – A procedure where a laser is used to heat up and stop the blood vessels from growing.
Cryoretinopexy –This treatment option is performed by using an instrument to freeze the blood vessels from forming. The surgery takes about 30-40 minutes and your child will receive eye drops.
Scleral Buckling – An issue with retinopathy is how the blood vessels can create the retina to detach. Scleral Buckling is a procedure performed by an ophthalmologist who places a rubber band like object around the eye in which helps the retina reattach to the eye.
Vitrectomy – To help reduce the chances from loss of vision and the eye detaching, a doctor can pull fluid from the eye. The fluid that is pulled to prevent this from happening is called vitrectomy.
As a parent, make sure everything you speak with a physician about is written down. It is important that you ask questions and understand the protocol of the screening and treatment procedures. This is a sure way to be certain that your child is properly taken care of. The best way to prevent retinopathy is speaking with a doctor and getting proper prenatal care. Seeking professional care is the only way you can reduce the risk of a baby being born prematurely. There are circumstances that can increase the severity of Retinopathy that can be avoided by medical professionals.
Factors That Escalate The Impact Of Retinopathy of Prematurity:
Excessive administration of oxygen
Asphyxia
Doctor negligence of conducting a timely eye examination
Medical Physician not diagnosing retinopathy when symptoms are present
Not providing swift or proper treatment when clearly needed
Mothers should do everything possible to make sure medical negligence doesn't occur. If you feel that a doctor is doing something incorrectly during or after a ROP screening or during treatment, speak up. You should never be afraid to ask questions about the care of your child. Speaking up can ensure that your child is properly taken care of and can decrease the risk of medical malpractice. The information listed above is not to be replaced with medical advice, please speak with a doctor about your concerns about Retinopathy of Prematurity.
Do you feel that your child suffered injury due to medical malpractice? Contact one of our legal representatives today at (800) 462-5772. We offer Medical Legal Review that can help determine if the medical care team of your child was at fault for your child's injuries.