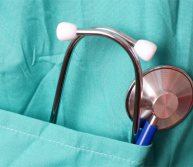 There is a lot of misinformation in the world regarding CP, perhaps no larger, or damaging, than the belief that there is no such thing as preventable Cerebral Palsy. While most people are aware of the fact there are a wide variety of causes, and forms of Cerebral Palsy, there is an unfortunate lack of understanding about the role medical professionals can have in causing CP.
First, it should not go without saying that we do not believe doctors or staff intentionally cause Cerebral Palsy. That said, the sad fact is that due to negligence or malpractice, there are far too many cases of preventable Cerebral Palsy that occur every day in hospitals across the country. Whether due to improper use of forceps or a vacuum extraction device, , failing to detect fetal distress and perform a timely C-section, or a wide spectrum of other elements, medical professionals can and do unwittingly act in a manner that leads to a child's birth injury.
The importance of knowing that Cerebral Palsy was preventable is two-fold: one, it gives some answers to parents left wondering if it will happen again in a future pregnancy, and two, it opens the door for Lifetime Benefits for your child. Lifetime Benefits are, in short, an important measure in helping to ensure that a child with preventable Cerebral Palsy receives all the treatment, therapy, specially equipped home and vehicles, and all the care they will need for decades to come.
So how does a parent find out if their child is inflicted with preventable Cerebral Palsy? Some parents are given the first hint that something 'went wrong' when their child is delivered through extreme complications and/or shows signs of distress during labor, namely in bruising or discoloration, or the need for assistance with breathing at birth. An extensive newborn stay in a NICU is also a red flag that would merit a parent's attention. When a parent suspects that their child has suffered preventable Cerebral Palsy, a Medical Legal Review can be conducted to fully examine the circumstances surrounding the pregnancy, delivery and post-birth care for issues or problems that arose.
Again, we stress that not all Cerebral Palsy is preventable. Sadly, there are a wide variety of factors that can cause Cerebral Palsy and only after the circumstances surrounding the birth are thoroughly examined by experienced birth injury counsel can the cause perhaps be determined. However, far too many parents are also led or misled to believe that their child's CP is due to something they did wrong or that could not have been avoided, instead of the reality that their child faces a life with preventable Cerebral Palsy. The availability of Lifetime Benefitsthat can help your child through early intervention therapy and care, as well as provide long-term financial assistance, means that you should pursue the true cause of your child's CP so that you have the answers you and your child deserve.
If you would like more information about the cause of your child's Cerebral Palsy, contact us today by either filling out our online form or by calling (800) 462-5772.