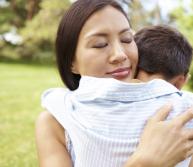 We have discussed in the past the nuances and details associated with occupational therapy and how it impacts children within an early intervention program. While it may sound job-specific, occupational therapy actually seeks to target everyday tasks and challenges your child might face in the home, school, in public spaces and, eventually, a workplace. While finding ways to accomplish 'everyday' tasks may seem obviously beneficial to the child, there are added benefits to the family as well.
Occupational therapy, at its core, targets general processes and common tasks a child will face at present, as well as in the future. Efforts like eating, dressing, bathing, playing, etc., all at their root relatively early milestones, all have great value for the child. Instilling confidence and independence, amongst other feelings, this therapy supports the family as well.
For parents, the successes children with Cerebral Palsy are able to achieve can instill pride and joy due to witnessing a victory big or small. This is not the only benefit, though, as parents whose children are learning how to manage tasks themselves can experience:
Reduced stress due to the ability to work with a child rather than directly for their needs
Engage with the emotional milestones achieved with each 'win'
Capacity to take on other efforts while child takes on actions independently
Develop and expand as a parent due to new relationships and activities available due to progress made
A sense of more freedom due to a child's ability to manage and process public spaces
Each of these carry with them significant emotional and tangible value; when a child is able to help a parent with their own care, there are more daily options afforded. This significantly helps in taking on life's daily requirements, while also providing you with opportunities for yourself beyond 'caregiver.'
Each of these results is not guaranteed due to the wide variety of ways in which Cerebral Palsy can affect a child. The overall goal, though, should be in exploring possibilities and identifying barriers that can be overcome.
One area, though, where occupational therapy may not help relieve a parent's stress is financial concerns. Insurance may not cover all costs associated or limit the types or expertise behind the efforts. Children who have qualified for Lifetime Benefits, though, have a trust or funds set aside to pay for therapy, equipment, assistive technology, education, treatment and more. A child qualifies for Lifetime Benefits when the source of their Cerebral Palsy is determined to be improper actions by a medical professional. A Medical Legal Review explores your medical records and personal recollection of the circumstances surrounding the delivery and provides an answer as to if CP was inevitable or due to a medical professional's actions (or lack thereof).
For more information on any of the items discussed in this post, including the details associated with a Medical Legal Review or Lifetime Benefits, don't hesitate to call us at (800) 462-5772 or fill out our easy-to-use contact form. Doing so will not only allow a team member to explore what free resources or programs we have information on that can help your family, but can also begin the review process to see how your child can be further helped.