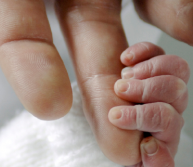 A Cerebral Palsy diagnosis can be alarming for parents, especially as they begin to examine what the future may hold for them and their child. The truth is that raising a child with CP brings with it a variety of hurdles, both financial and emotional, for families. While this blog focuses on the legal side of Cerebral Palsy, we also highlight a potential legal benefit called Lifetime Benefits that can help the family of a child with CP better face the future. So what are Lifetime Benefits and how do they help your child?
While they may seem self-explanatory (a lifetime of benefits), it's important to fully understand what their purpose is and how they work. Lifetime Benefits are financial agreements established to directly benefit a child with Cerebral Palsy that is attributable to medical malpractice or negligence by a medical professional. Lifetime Benefits may come as a result of a settlement that parents and the other party agree to or may be a court order; regardless of how they come about, the assistance provided is critical for care in the present and in the future.
What Are Lifetime Benefits? from The CP Lawyer | Stern Law, PLLC on Vimeo.
What can Lifetime Benefits be used for? In short, the money is set aside for the care and development of a child with Cerebral Palsy. This can include, but is not limited to:
Therapy (physical, emotional, recreational, speech, etc.)
Medical Treatment and Medications
Adaptive Equipment
Home Care Assistance
Housing
Education
Vehicle/Home Modifications
And more
So how does a child receive Lifetime Benefits? The first step is to request a free assessment from a team of professionals that will involve analyzing the circumstances surrounding your child's birth. This analysis, known as a Medical Legal Review, is conducted to determine the cause of the child's Cerebral Palsy. From there, if a medical professional's conduct can be determined to have directly impacted the CP diagnosis, a legal professional will begin the steps in getting the child the benefits they deserve.
Even if you have been told the cause of your child's Cerebral Palsy, it's still important that you have a Medical Legal Review conducted due to the extreme value and importance of Lifetime Benefits. Medical professionals, unfortunately, have a reason to diminish their role in causing CP and, as a result, a third-party review (MLR) can help answer questions on their conduct. Because a Medical Legal Review is free, this review will only reveal that everything that could have been done was done or, if error is found, can help parents receive crucial assistance for a lifetime of care.
Fill out our form or contact our offices today if you would like to find out more about your child's Cerebral Palsy and eligibility for Lifetime Benefits.