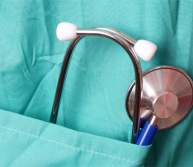 As Cerebral Palsy can represent a collective term for injuries suffered around a child's birth, it's natural to immediately assume complications occurred in the womb or during delivery that led to the CP. However, there's another cause of CP that can take place after the delivery that is important to understand. Intraventricular hemorrhage (IVH) is a dangerous and extremely important cause of death and harm that often occurs in the neonatal intensive care unit (NICU) that must be properly understood by medical professionals to avoid catastrophe.
Intraventricular hemorrhages are tied to NICUs due to their root cause. Due to fluctuations of an infant's blood pressure, IVHs can impact premature children due to their inability to control their own cerebral blood flow. An increase in blood flow may lead to blood vessel ruptures, while decreases may result in an ischemic event that further leads to complications as the brain attempts to heal itself.
Intraventricular hemorrhages can be caused by a wide assortment of things related to an increase or decrease in a premature infant's blood pressure. Whether through hyper-oxygenation during resuscitation, stress caused by positioning of the child by medical staff, improper handling or the execution of unnecessary/routine procedures, you can see there are a wide number of events that can lead to an IVH.
While all of this may seem extremely dense and difficult to follow, proper care for a child at risk of an intraventricular hemorrhage should be mandatory and clear for all medical staff. Whether it involves limited contact with the child by secondary staff, limited blood draws, improper clothing or monitoring attachment, there are very real and very specific standards of care that must be followed to prevent IVH. Unfortunately, as infant death rates have fallen, cases of brain damage related to IVH have remained consistent.
Sadly, there is not much that any parent can do to help their pre-term child avoid an intraventricular hemorrhage because children at risk should not be handled by anyone except neonatologists and neonatal nurses and nurse practitioners. Parents can pursue additional information about their preferred hospital's NICU procedures surrounding IVH prevention, and monitor the actions taken for their child closely. An IVH can cause extreme damage to a child, including, but not limited to, Cerebral Palsy or even death, making this a very important focus for medical staff.
If your child suffered an IVH, or you're simply unaware of whether your child's Cerebral Palsy was caused by improper or non-standard care, please contact us today to find out more about your child's rights to a lifetime of care. Our team performs medical legal reviews that analyze your child's birth records and determine if more could or should have been done. We welcome any parent with questions or concerns to contact us today!
Note: Our thanks to Addie Adedeji, RN, BSN, MPH, CLCP for providing the core scientific background for this piece with her article "Preventing IVH in the Neonatal Intensive Care Unit."