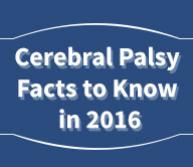 A new year is upon us, but some things remain the same. Cerebral Palsy is still the most prevalent motor disability in childhood, affecting nearly 10,000 new babies every year. The impact of the condition, both physically and financially, can be staggering. Knowing the facts about Cerebral Palsy enables families and their communities to better meet the needs of those affected.
Tragically, research shows that 25 to 35 percent of Cerebral Palsy cases may have been preventable and resulted from medical errors before, during or after the delivery of a child. In these unfortunate instances, it is critical that parents quickly contact a Cerebral Palsy birth injury lawyer to help determine the exact cause of their child's injury in order to pursue Lifetime Benefits that will financially assist with decades of extraordinary medical and living expenses.
The following infographic highlights the latest information on Cerebral Palsy. It presents CP's prevalence and details some of the physical and financial impacts of the condition. You will also find new information from 2015 that illustrates the continued need for legal representation and community support for our family members and neighbors with Cerebral Palsy.

A Cerebral Palsy birth injury lawyer understands that every case of preventable CP is unique. To find out if your child may be eligible for Lifetime Benefits, it is critical to request a Medical Legal Review as soon as possible to determine the cause of your child's injury.
For more information on Medical Legal Reviews and Lifetime Benefits, contact Stern Law, PLLC today by completing the form on this page or calling (800) 462-5772.