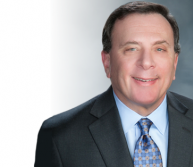 An Editorial from Founder Ken Stern:
After decades of working with families of children with cerebral palsy, I'm still left with the same question I had when I began this journey: "Who, besides you, is really 'there' for your child?"
When I say "there," I don't mean family and friends, or babysitters who have proven to be reliable supporters. I don't mean the wonderful physical and occupational therapists that help children with cerebral palsy make great improvements. What I mean by "there" is about responsibility and accountability. Who can you count on to make sure your child receives all the help they need and deserve?
Is the government "there" for children with cerebral palsy? The answer is a resounding no, as we have found that the government is increasingly less willing to help. They fight families and advocacy groups over SSI benefits and they make large numbers of children fight for the quality education that our U.S. Constitution guarantees. If anything, it seems the government is almost broke, incapable of expanding care (regardless of the decade or political party in office) and children with cerebral palsy are still not receiving the help they need.
Is it the doctors or hospitals that may have caused a child's ailments that will be there for children with cerebral palsy? Absolutely not. Medical professionals frequently and shamelessly mislead mothers and cause them to feel it was something they did wrong. And they have a very selfish reason to do so: if a child's cerebral palsy was caused by medical malpractice and was preventable, the blame shifts as it should entirely to them. What's more, the statute of limitations exists to allow doctors and hospitals to escape responsibility. As a result, medical professionals can delay a parent from finding out the truth until their time to act has passed. In short, time is not on your side as delays in diagnosis hurt children with cerebral palsy (by limiting resources and critical early intervention) while benefiting the responsible wrongdoers.
When it comes to getting children with cerebral palsy the support they need, the legal system is still your only safety net. As a lawyer, I take great pride in fighting to protect all of my clients. Our efforts in connection with cerebral palsy include providing exceptional free information and resources, while helping those children whose cerebral palsy was preventable receive all the benefits they deserve. Whether by providing free information regarding local information and resources, or in connection with our legal efforts, I'm proud to say that we go the extra mile and leave no stone unturned in our effort to find out every possible benefit for your child's care. Through MyChild and CerebralPalsy.org, free information, resources and compassionate call center representatives are ready to help you. Through Stern Law, PLLC, we work to provide children with cerebral palsy the legal representation they need to receive lifetime of care and benefits they deserve.
In short, we're there for you and your child, and you can count on that.
(A version of this piece was originally published on Facebook)