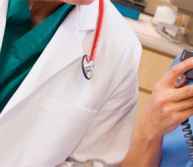 The parents of a child with Cerebral Palsy are usually left with a wide range of questions after receiving the diagnosis. Beyond the far too common and unfair questions parents ask of themselves (there is nearly nothing a parent can do to avoid Cerebral Palsy in their child), questions can, and should, shift to the medical process. How did this happen? What could have been done differently? Did doctor error (or medical malpractice) lead to this? These questions are all legitimate, including the possibility of negligence, because of one core fact: many cases of Cerebral Palsy are in fact preventable and are the result of medical error.
It should be clear that it does matter if your child's Cerebral Palsy was preventable or not. Beyond the peace of mind of knowing exactly what happened, finding, through the Medical Legal Review process that doctor's error may have contributed to the birth injury/CP can ultimately mean that someone else should pay for the harm caused to your child. Should it be determined that negligence or medical malpractice caused your child's Cerebral Palsy, Lifetime Benefits may be available that can help provide opportunity for your child moving forward to fully maximize their potential.
Lifetime Benefits are funds frequently set aside as a Trust exclusively for your child's benefit due to the medical malpractice or negligence matter that caused Cerebral Palsy. While any parent would prefer to undo the doctor error or the negligent act that caused their child's birth injury, Lifetime Benefits aim to help with the significant costs associated with Cerebral Palsy. As set aside, these funds can help a child facing a lifetime of challenges due to one person's negligence, increasing access to critical services and providing equipment, services and therapy to make a serious push toward achieving a child's full potential.
What Is Medical Malpractice? from The CP Lawyer | Stern Law, PLLC on Vimeo.
Parents who suspect medical malpractice during the course of the pregnancy, delivery or post-birth care must act quickly. The unfortunate reality surrounding what may be a nearly undetectable doctor error case is that, in some states, parents are required to take legal action in as little as three years from the date of birth (when negligence or medical malpractice is considered to have taken place). Given the fact many symptoms of birth injuries like Cerebral Palsy do not become obvious immediately, often not until milestones are missed, the pressure on parents is significant and many cases unfair. Parents should not be expected to double as medical professionals and investigate a birth injury themselves. The Medical Legal Review process is a free way to have those with professional experience surrounding birth injuries examine what happened and determine what help is available.
What should you do if you have questions regarding if medical malpractice, doctor error or negligence contributed to your child's Cerebral Palsy? Request a free Medical Legal Review of your child's birth today. With statutes of limitation varying across the country, you may not know how much time you have to get access to critical financial assistance. As early intervention represents a crucial jump start to helping children overcome future obstacles, time is of the essence even for those in states with longer statutes of limitation.
For more information on any of the questions above, including preventable Cerebral Palsy or if your child's birth injury was caused by medical malpractice, call us at (800) 462-5772, download our eBook on the topic, or contact us at your convenience.