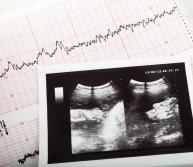 The events surrounding a birth are sometimes chaotic for parents. Even if you have had more than one child, the hustle and bustle of different medical professionals coming and going can create a whirlwind of emotions and activity. Parents may also experience the sound of a fetal monitor in their room. The fetal monitor is the device which can critically identify signs of potential fetal distress, alerting the medical professionals that steps may be quickly needed to avoid causing harm to the baby. Fetal distress is not necessarily an immediate sign of harm but, instead, something worth careful review, especially when a child suffers a birth injury such as Cerebral Palsy.
The truth about Cerebral Palsy? Sometimes it is preventable.
But what exactly is fetal distress? Fetal distress is an indication from the fetal monitor, oftentimes referred to as the fetal monitor strips, that track your child's heart rate in response to your contractions. When a child experiences fetal distress as indicated on the fetal monitor, it can be caused by decreases in the supply of oxygen due to various complications. This lack of oxygen, if prolonged, can result in brain damage that eventually results in the diagnosis of Cerebral Palsy. These complications can include:
Development issues;
Umbilical cord complications;
Birth size problems;
Issues within the uterus.
Medical professionals are also aware that fetal distress may also occur due to circumstances relating to the mother's health. When a mother's health is compromised, it can have a direct impact on the child. Examples include:
A pregnancy marked by hypertensive disorder;
Cervical deficiencies or abnormalities, including incompetent cervix;
Maternal anemia;
The mother being exposed to toxic chemicals;
Use of medications, smoking, alcohol or other unhealthy substances during pregnancy;
Utero-placental insufficiencies;
Avoidance or lack of use of prenatal care by the mother;
Gestational diabetes;
Hypovolemia;
The mother having a pre-existing issue relating to heart or lung disease resulting in a shortage of oxygen;
Living in a very high altitude;
Placenta previa;
Illness within the mother, both viral and bacterial;
Pregnancy involving an older woman;
Liver issues occurring during the pregnancy known as Intrahepatic cholestasis of pregnancy;
Weight issues occurring before or during the pregnancy.
What Is Electronic Fetal Monitoring? from The CP Lawyer | Stern Law, PLLC on Vimeo.
Doctors should also know that circumstances surrounding the delivery itself could contribute to fetal distress. Examples of these problematic issues include:
Premature labor;
Prolonged labor;
Multiple births;
Size or presentation of the fetus;
Sepsis or infection;
Uterine infection;
Post-term pregnancy;
Vaginal birth after cesarean;
Nuchal cord, an issue where the umbilical cord wraps itself around the neck of the child completely;
The umbilical cord being pressed too tightly against the uterine wall due to the size of the fetus;
The umbilical cord being compressed as a result of prolapse;
Abruption/rupture of the placenta (placental abruption);
Shoulder dystocia, where the shoulders of the baby exceed the size of the birth canal;
Improper use of drugs or medicines to induce labor.
This is not an exhaustive list that includes all of the potential problems faced by a mother and her baby. There are more examples of conditions that can result in fetal distress.
A Medical Legal Review is a process wherein professionals in the medical and legal field examine the actions taken by the medical professionals involved in your child's delivery. Any time a child is born with a birth injury which results in Cerebral Palsy, it's crucial to have someone examine the circumstances surrounding the pregnancy, labor and delivery. When fetal distress is present on the fetal monitor, it is even more important for a review to be done. In the face of fetal distress as seen on the fetal monitor, delays in providing the required medical treatment can result in damage to your child, including Cerebral Palsy.
Why is a review important? Beyond getting your family answers regarding the circumstances surrounding your child's delivery, a Medical Legal Review may reveal eligibility for a lifetime of care. Commonly called Lifetime Benefits, these funds are usually set aside in trust, aimed at caring for and helping your child reach their full potential in the days, weeks, months, years and decades to come. Covering costs associated with therapy, care, equipment, housing, education and more, these benefits seek to overcome the challenges faced by a child with CP and allow them to reach their full potential. Lifetime Benefits are not like Social Security benefits (S.S.I) and do not depend on a family's income level, making them important and available for every family to pursue.
For more information on any of the items discussed above, including, a Medical Legal Review, Lifetime Benefits and fetal distress, please contact our office by filling out our contact form or by calling us at (800) 462-5772.