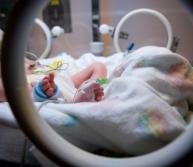 A child's Cerebral Palsy diagnosis is rarely the first sign of challenges for parents regarding their son or daughter. Developmental delays and missed milestones can culminate with a diagnosis for CP, but the first warning signs of difficulties often emerge during the labor and delivery. When detected, these warning signs will many times trigger a C-section in order to get the child out of danger and enable the child to receive any needed medical attention. However, a failure to timely order and perform a C-section can have serious results, including Cerebral Palsy for the child.
One of the main triggers for an immediate C-section is signs of birth asphyxia. Asphyxia involves an inadequate (or no) flow of oxygen to the body and the brain. Previously thought to be the main cause of Cerebral Palsy in babies, asphyxia is now considered to be only one of a multitude of causes. Asphyxia involves deprivation of oxygen to the brain, a baby suffering from this condition should, in most cases, be delivered immediately by C-section to limit or avoid permanent damage.
There are a variety of ways in which birth asphyxia can occur, including complications with the umbilical cord, excessive bleeding (hemorrhaging), abnormal presentation (baby not head first in birth canal), shoulder dystocia, maternal shock and more. Each of these events involves much different circumstances, but very similar results: without immediate action, most often by performing a C-section, serious harm can come to the child.
Of course, there can be mitigating circumstances that may explain delays for a C-section. We are not trying to claim here that every birth complication can be attributed to the failure to undergo a Caesarean, which is itself a very delicate procedure with its own complexities. It is important to have the events surrounding your child's delivery reviewed to determine if medical standards surrounding the birth were in any way ignored.
Whether your child with Cerebral Palsy was born vaginally or through a C-section, examining the circumstances surrounding labor and delivery is crucial. A Medical Legal Review involves medical and legal professionals analyzing your medical records to determine if the proper steps were taken by your doctors before, during and after a child's delivery. If these medical standards were deviated from, your child with Cerebral Palsy may be eligible for Lifetime Benefits that will finance their therapy, care, housing and more for decades to come.
If you experienced a long delivery or your child may have experienced fetal distress or any other birth related complication, and you'd like to know whether medical professionals may have failed to take proper action during your child's birth, request a free Medical Legal Review today. At no cost to you, a Medical Legal Review will help in answering your questions while also potentially providing your child an opportunity to receive Lifetime Benefits, enabling them to reach their full potential. Give us a call at 800-462-5772 or fill out our contact form for more information.