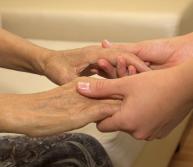 One of our favorite parts about managing our Facebook Page is hearing the diverse set of voices that represent the Cerebral Palsy community. Ranging from parents of newborns with CP looking for information all the way to grandmas with an amazing amount of personal (and medical) knowledge of this condition, the truth is the CP community is as expansive as it is varied. This is extremely fitting due to the wide range of symptoms and conditions that can be associated with CP.
Understanding a child's Cerebral Palsy as a lifetime diagnosis and journey is crucial for parents to adopt. Parents need to focus on the reality of today and on what the future may bring. The sad certainty is that the challenges associated with being a parent of a child with special needs is amplified by the effort to manage those needs in real-time. Just as all parents are stretched by the needs of their children, those with CP experience a wide assortment of emotions, struggles, needs and more themselves.
Those early days can be crucial in the development of a child with Cerebral Palsy, in regards to their condition as well as the options available throughout their entire life. Just as early intervention can be crucial for the ability of a child to reach their full potential, understanding as much as possible about your child's specific CP diagnosis and condition is essential. Doing so can help in securing a solid diagnosis for future therapy and needs, as well as better understanding how the Cerebral Palsy came to be.
These two items are further tied to each other by the fact that therapies can be significantly expensive.
The long-term impact of these early efforts is crucial, but another timely manner must also be considered: looking into the nature and origin of your child's CP. Doing so may reveal material facts revealing that your child would not be facing a lifetime of Cerebral Palsy if a medical professional acted properly.
Lifetime Benefits, funds set aside for children with Cerebral Palsy that was preventable, help pay for therapy care early in life and for years forward. Focused on funding optimal care in the form of therapy, equipment and more, these funds take a sizable burden off of the family and provide the child their best opportunity to reach their full potential.
This, then, leads to two very important legal components for parents to consider:
Finding out the cause of their child's Cerebral Palsy;
Ensuring any settlement provided will be enough for a lifetime of care and assistance required for their child.
Parents left looking into these two items should consider a birth injury attorney. A birth injury attorney does not require any monetary payment up front for their representation and they understand all of the costs associated with Cerebral Palsy. If you are looking for a such lawyer that properly reflects these two points, contact us today by calling 800-462-5772 or fill out our contact form. Doing so can not only help our team connect you with resources aimed at helping children with Cerebral Palsy, but also let us play a partner in your child's success story.
If you have any questions about Cerebral Palsy, Lifetime Benefits, the Medical Legal Review process, or any other item, don't hesitate to ask.