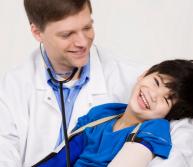 When a child is newly diagnosed with Cerebral Palsy in the United States, the parents of that child can expect to meet with one or more specialists over the course of the child's lifetime. The role of these specialists is simple: To assist the child in maintaining what functionality he or she does have and to assist the child in managing his or her Cerebral Palsy-related complications and impairments. One such specialist is a speech-language pathologist (SLP), sometimes known simply as a speech therapist. If your child's Cerebral Palsy affects the muscles of his or her neck or torso, or if your child affected with Cerebral Palsy has difficulty in communicating or eating, your child may need to be evaluated by such a specialist.
Education and Purpose of Speech Language Pathologists
In order to practice in the field of speech language pathology, the individual must possess a Master's-level degree that is appropriately accredited. In addition, the would-be pathologist must obtain state licensure and maintain this licensure by participating in continuing education opportunities each year. Pathologists who desire additional education may complete advanced graduate degrees in their profession. While the pathologist's employer may require the pathologist to obtain an advanced degree in order to maintain his or her employment and/or be eligible for a promotion, an advanced degree beyond the initial Master's-level degree is not required in order for the pathologist to retain his or her certification.
Despite the name, speech-language pathologists offer services that touch upon many more functions than simply assisting a client with his or her speaking skills. A speech-language pathologist can assist with:
Memory and problem-solving skills;
Articulation and enunciation of words and syllables;
Social aspects of communication (such as expression of ideas through oral, written, or other forms of communication;
Voice and volume difficulties; and/or
Swallowing disorders that can make it difficult or painful for the individual to swallow food and/or liquids.
A speech-language pathologist rarely provides his or her services in a vacuum: instead, the SLP will frequently coordinate his or her services with other professionals and specialists that may be assisting a particular client such as neurologists, occupational therapists, and physical therapists.
Does Your Child Need a Speech-Language Pathologist?
If your child is diagnosed with Cerebral Palsy, your child's pediatrician, primary care provider, or other medical professional who is overseeing the general health and care of your child can help you determine if your child might benefit from the services of a speech-language pathologist. Such a recommendation is usually made where the child is suffering from spastic quadriplegia (which can affect the neck muscles and impact swallowing and speech) and other similar forms of Cerebral Palsy. A speech-language pathologist might also be recommended where the child's Cerebral Palsy presents with cognitive impairments as well.
Choosing the Right Speech-Language Pathologist for Your Child
Your child's doctor can provide you with a referral to a local certified speech-language pathologist. Whether you use a speech-language pathologist of your child's doctor's choosing or whom you personally know, the prospective pathologist should be willing to work as part of a treatment team with regards to your child. This means that while the pathologist will want to conduct his or her own assessment of your child in order to determine what services and therapies might be most appropriate, the pathologist should also be open to considering the results of other assessments completed by other professionals who have seen your child. In addition, the pathologist should be willing to share his or her own opinions and findings with these other professionals. In so doing, your child will be provided with the best possible care for his or her Cerebral Palsy.