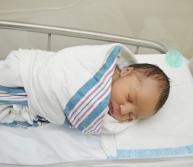 As every parent knows, the nice, clean and cherubic representation that television and the movies have created of a newborn sometimes does not align with reality. When a child is born, a wide assortment of fluids, discoloration and other 'stuff' is present that can make the child's debut anything but glamorous. However, for children born without problems, this can be fixed through a towel, some water and time. When a child's birth color is significantly abnormal, though, it may be an indication of a wide number of problems, including HIE.
HIE, the abbreviation for Hypoxic-Ischemic Encephalopathy, is a very serious condition that arises from a lack of oxygen to the child. Also known as Intrapartum Asphyxia, HIE involves the cutting-off of oxygen to the brain of a baby during the late stages of pregnancy or during labor. The severity of the hypoxic-ischemic encephalopathy can vary from mild, moderate to severe, but can also result in a wide range of conditions, including epilepsy and neurodevelopmental delay. Varying in how it impacts the child, sometimes based upon when it occurs, HIE's critical impact is made clear when leads to severe mental and developmental challenges, including the motor impairment and cognitive issues seen in Cerebral Palsy.
To better understand how HIE takes place, a helpful analogy is that of a deep-sea diver. In the old days, divers used to descend to significant depths with a divers suit and helmet attached to a long hose that supplied the diver oxygen. If you were to tie off or otherwise restrict that hose, the oxygen flow would halt and the diver would be in significant danger of brain damage and possible death. HIE occurs when that 'hose of oxygen' (the umbilical cord) is restricted. Unlike our diver example, newborns are a bit more resilient and are able to handle this lack of oxygen slightly better due to its' reserves (protection afforded by the placenta and womb). Damage, though, is still a very real concern and every moment of delay counts when it comes to HIE.
So how does birth color factor in? When a child is born blue or significantly pale, this is a sign that a lack of oxygen has taken place. While not every child deprived of oxygen will develop HIE, a poor birth color can be a critical sign to doctor and parent alike that the child requires immediate attention. Deprivation of oxygen, also known as asphyxia, can also show itself in the form of fetal distress, detectable through the use of fetal monitor strips or through the presence of meconium. When a medical professional fails to properly use fetal monitoring technology, warning signs can be missed that extends your child's asphyxia and/or delays a very necessary C-Section.
If poor birth color was a part of your child's delivery, it is important to request a Medical Legal Review to determine if the proper steps were taken by medical professionals. Conditions like Cerebral Palsy are, in some instances, preventable and when a child's condition is caused by inadequate care by a doctor or physician, a child can be eligible for critical Lifetime Benefits that help in establishing a special needs trust.
If this blog has raised questions in your mind regarding your child's birth color, birth injury and/or if your child has been diagnosed with HIE and Cerebral Palsy, call us at (800) 462-5772. We also have an online form for use after-hours, all in the pursuit of helping get you the information you need regarding questions you have about your child's condition.