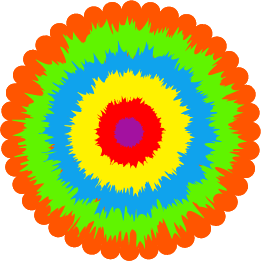 The holidays are upon us, and what better way to celebrate than spending some quality time with our kids? Do-it-yourself holiday craft projects provide the opportunity to create lasting memories and practice motor skills with your child.
From holiday cards to home décor to family presents, these 10 DIY craft ideas can serve as a starting point to making your child's holiday season merry and bright.
Remember the old-fashioned snowflakes that you delicately cut from folded white paper and hung on the windows? Tie-dye coffee filters are the more fun and more festive version of these. The only materials you need are color dabber paints and coffee filters.
Perfect as a gift or to hang up as home décor, simple "stained-glass" art gives your child a chance to get creative with holiday designs. The list of supplies is simple: tissue paper, contact paper, construction paper, and scissors.
With the versatility to be a hanging ornament or a refrigerator magnet, these popsicle stick picture frames allow your child to be as simple or elaborate as he wants to be. Your material list includes jumbo popsicle sticks, glue, paint, paint brushes, and (optional) magnets or string and tape.
Not many people are fortunate enough to receive scratch-and-sniff holiday cards, but you and your child could change that! This easy recipe for scratch-and-sniff paint is perfect for making scented holiday cards to give to friends and family. All you need is school glue, water, flavored gelatin powder, a paintbrush, and blank cards.
Why use store-bought holiday wrapping paper when you and your child can create your own? Make unique and colorful wrapping paper designs by using a toy car or truck with its wheels dipped in paint. You will need brown Kraft paper, paint, a plastic plate, a toy car or truck, and scissors for this fun project.
Whether your child wants to make a piece of art to give as a gift or to hang up at home, fruit and vegetable prints are a healthy way to celebrate any holiday. For this project, you will need paint or ink, sponges, an old cookie tray, paintbrushes, water, paper, and the fruits and veggies your child loves (or wants to avoid eating).
These beautiful jars can add a little DIY spark to your holiday light display, and they provide an opportunity for your child to make a light-up decoration for his or her room. All you need is a glass jar, some glow-in-the-dark paint, and brushes, and voila!
If you decided to pass on the mason jar lights, this project may be a good alternative to light up your home this holiday season. Your child may also want to give these away as gifts. Your list of materials includes a water bottle, submersible color-changing tea lights, acrylic diamond table décor (available at most craft stores), and clear packing tape.
A staple in many children's art classes, pinch pots are an easy and fun craft that you can make at home and customize for the holidays. You and your child can craft the pots out of Crayola Air Dry Clay (available at most craft stores) and paint them in the holiday designs of your choosing.
Stuck inside on a snow day? Consider this snow-based craft to keep your child engaged and entertained. All you need is food coloring, plastic squirt bottles, water, clear plastic containers, snow, and towels. You can also take this art project outside if your child wants to decorate a snowy area of your yard.
Tips for Creating Holiday Crafts with Your Child
DIY crafts can give children with cerebral palsy the opportunity to practice motor skills while producing something they can be proud of. However, some crafts can also be challenging, so it is important for parents to approach projects with a plan.
Art Shop Therapy recommends a four-step approach:
Demonstrate what you're going to be doing. This way your child can follow your lead as you get started on the craft project.
Repeat the project. Your child will get the hang of the craft better the more he or she does it. (Warning: You may end up with a lot of tie-dye coffee filters!)
Experiment with different techniques. Your child may find that there are many ways to make the project unique. Let your child play around with the materials.
Build on these skills. Once your child has mastered one skill, such as sponge painting, pick out a craft that will help hone another skill. Eventually, your child will be coming up with his or her own holiday craft projects!
Sources:
For more information on Medical Legal Reviews and Lifetime Benefits, contact Stern Law, PLLC today by completing the form on this page or calling (800) 462-5772.